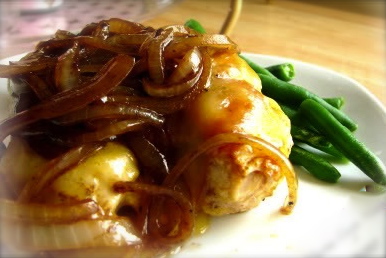 In this easy Caramelized Onion Chicken recipe, you start a day ahead by simply throwing all the ingredients into a container or bag.
The next day you'll spend less than 20 minutes reducing the sauce and getting the whole deal into the oven. An hour later...well, believe me, it' so good your're gonna have to share this yummy kosher chicken recipe!
Thanks to my sweet friend Ilana, such a great cook, who shared this recipe with us.
More delicious kosher chicken recipes like Caramelized Onion Chicken
The Caramelized Onion Chicken Recipe ~from Cooking for The King
12 pieces cut up chicken, about 5 pounds rinsed and patted dry
6 large onions, peeled, halved and thinly sliced
4 tablespoons honey
4 tablespoons Dijon mustard
4 tablespoons tamari or soy sauce
2 tablespoons brown sugar
2 tablespoons vegetable oil
1 teaspoon ground ginger
1/2 teaspoon salt
1/2 teaspoon pepper
1. Place chicken with all ingredients in a large sealable plastic bag or storage container with a tight fitting lid. Cover, shake to coat well and refrigerate overnight.
2. Preheat oven to 400 degrees and position rack in top third of oven. Remove chicken from marinade and place, skin side up, in one layer in a large baking pan. Roast 15 to 20 minutes until skin is crisped. Remove chicken from oven and lower temperature to 350 degrees.
3. Meanwhile, pour onions and marinade into a medium saucepan over medium high heat and bring to a boil. Lower heat and simmer 20 minutes until thickened.
4. Pour onion sauce over chicken and return to oven. Bake uncovered for 30 to 45 minutes.