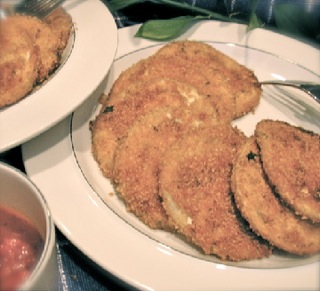 Oven Fried Eggplant is an item from my catering menu that my customers often ordered in double quantities. It seems that one order was rarely enough, the first having usually been devoured in the kitchen before making it to the table!
This crunchy, creamy, oven fried eggplant recipe is a great way to introduce your children to the world of eggplant. Enjoy with warmed marinara sauce.
It's also a time saver. Oven fried eggplant in your freezer is the basis for your "planned over" entrees and snacks.
The Oven Fried Eggplant Recipe ~from Cooking for The King
1 medium eggplant, peeled and sliced into 1/4" discs
1 cup toasted breadcrumbs or cornflake crumbs
1/2 teaspoon salt
1/2 teaspoon pepper
1 teaspoon garlic powder
1/2 teaspoon dried parsley
1/4 onion, finely minced (about 1/4 cup)
1/2 cup mayonnaise
1/2 cup marinara sauce
1. Preheat oven to 425 degrees. In a large bowl combine the cornflake crumbs, salt, pepper, garlic powder, & dried parsley. In another, smaller bowl mix mayonnaise with minced onion.
2. Spread a thin coating of onion-mayonnaise mixture on each side of sliced eggplant and dredge in seasoned crumbs. Place coated eggplant slices on an ungreased baking pan.
3. Bake 15 minutes in preheated oven. Carefully flip slices and bake another 5-10 minutes until slices are a golden brown. (Thinner slices will brown much quicker than thicker.) Serve with marinara sauce.