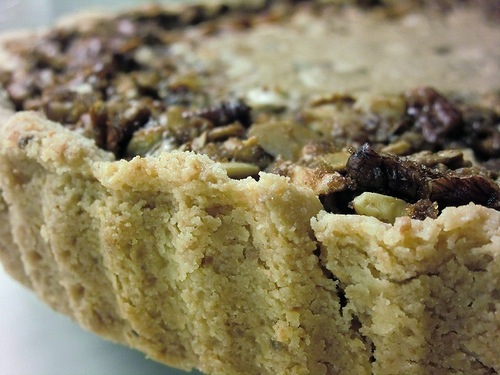 Great news! An all-purpose, flourless, adaptable and delicious basic Passover pie crust recipe. This gluten and gebroks free recipe got "OMGoodness!" rave reviews.
We like this one recipe for our sweet tarts and savory quiches. Just add your desired spice or seasoning and you'll be cooking, Queen in the kitchen style~because she S-A-I-D so:
Simple~no complicated steps here
Adaptable~add desired spices depending on your filling (see below)
Ingredients~that you'll probably have on hand
Delish~of course!

The Passover Pie Crust Recipe ~from Cooking for The King
2-1/4 cups finely ground nuts or nut flour
6 tablespoons coconut, palm or olive oil
1/4 cup brown or white sugar
Adaptations:~Sweet additions: 1/2 teaspoon of ginger powder, cinnamon, cocoa or lemon zest, vanilla
~Savory additions: 1/4 teaspoon ground pepper or salt; 1/2 teaspoon dried dill or basil, garlic powder or Italian seasoning
1. Preheat oven to 350F degrees. In a 9" pie dish, combine all ingredients with a fork. It should hold together loosely, add more nuts or oil as needed, a teaspoon at a time. Press mixture into bottom of pan and around the sides. Pinch the edges evenly.
2. Prick the bottom with a fork in several places times to allow air to escape. Bake in the preheated oven degrees for 15-20 minutes. DO NOT not let overbrown! (nuts brown very quickly so keep your eye on it)
3. Remove from oven and allow to cool to room temperature before filling.
Try Passover pie crust for Tree Hugger Tart filling, any time of the year, and this easy to adapt for Passover Pumpkin or Sweet Potato Pie.