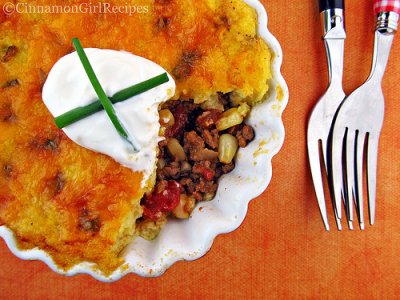 The best and easiest Tamale Pie starts with a pot of day old chili. You know, that last couple of servings, so delicious yesterday, but now the appeal is gone.
That's no reason to toss perfectly good food, and no reason to wonder what's for dinner, either.

QITK tip: Planned Overs save precious time and energy " when life gets in the way...."
More Cook Once, Eat Twice Recipes like this easy Tamale Pie recipe.
The Tamale Pie Recipe ~from Cooking for The King
4 cups Planned Over Garden Vegetable Chili
2 cups vegetable broth
2 cups milk
1/2 teaspoon cumin
1/2 teaspoon salt
1/4 teaspoon pepper
1 teaspoon chopped jalapeño pepper, optional
1 1/2 cups yellow cornmeal
3 tablespoons butter, divided
1 (10 ounce) can corn kernels, drained
1 cup grated cheddar cheese
1/2 cup sour cream
1. Heat the chili in a saucepan until warm. Cover, remove from the heat, and keep warm.
2. In a large saucepan whisk together the broth, milk, cumin, salt, pepper, optional jalapeño pepper and cornmeal and bring to a boil over medium-high heat, whisking constantly. Reduce heat to medium-low and simmer, whisking occasionally, for 6 to 10 minutes until very thick and smooth. Remove from the heat and stir in the margarine until it melts.
3. Preheat the oven to 375 degrees. Spray a 9" x 13" pan or large round casserole dish with vegetable spray. Spoon 1/4 of the cornmeal mixture in an even layer over the bottom of the casserole, then top with the warm chili. Sprinkle the corn over the top of the chili, then spread the remaining cornmeal mixture evenly over the top. Sprinkle the cheese over all.
4.Bake 30 to 40 minutes until filling bubbles around edges and top is set and golden. Serve tamale casserole hot topped with a dallop of sour cream.