Garden Vegetable Chili


the best kosher chili recipe~easy too!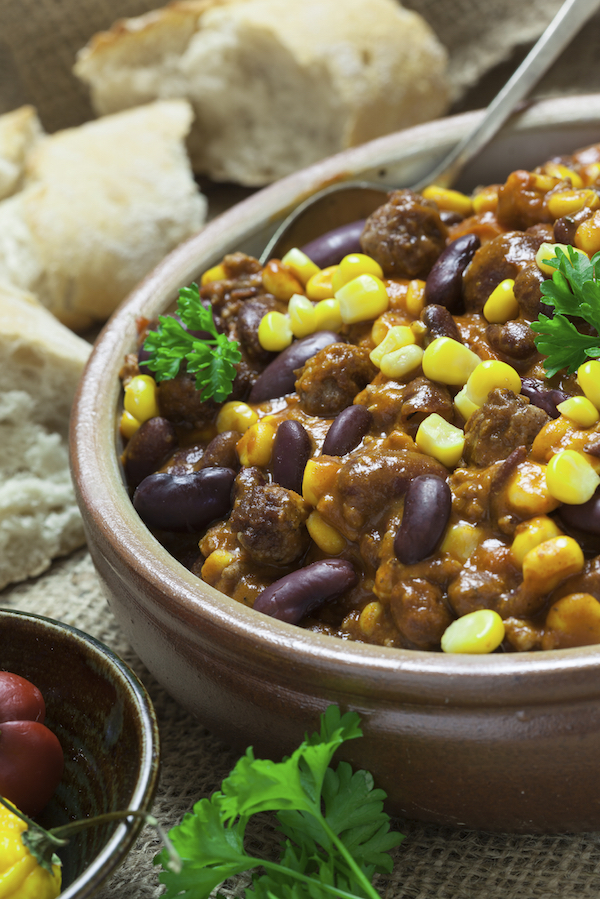 Cooking for The King's kosher chili recipe is an easy vegan/ vegetarian dish and a customer favorite from my catering days. It not only easy on your time but is economical, too, especially if you stretch it by serving it over rice or pasta. Makes a lot and freezes well.
Coffee, cocoa powder and touch of cinnamon give it a rich robust taste. So chock full of healthy vegetables (Queens in the kitchen will substitute our family's favorites), they'll never miss the meat~

---
Garden Vegetable Chili
1 tablespoon vegetable oil 
1/2 large onion, chopped
1/2 red bell pepper, chopped
1/2 green bell pepper, chopped 
1 (28 ounce) can crushed tomatoes 
1 (28 ounce) can diced tomatoes
1 (14.5 ounce) can kidney beans
1 (14.5 ounce) can corn
I small zucchini, diced
I small yellow squash, diced  

1 portobello mushroom, diced
2 carrots, peeled and diced
1 tablespoon tomato paste
2 cups water
1/2 cup brewed coffee
2 tablespoons chile powder
1 tablespoon Tabasco 
2 teaspoons ground cumin
1 teaspoon cocoa powder
1/4 teaspoon cinnamon
1. In a medium stockpot, heat oil over medium high heat. When almost smoking, add onion and bell peppers. Cook, stirring occasionally, for 5 minutes until vegetables are very soft. 
2. Add remaining ingredients. Bring to a boil, lower heat and simmer, uncovered for 2 hours. Stir occasionally.
3. Ladle over rice or pasta. Top with shredded cheese, taco chips, jalapeno peppers and/or chopped fresh onion. Add crumbled tofu, or leftover shredded chicken or beef. Endless possibilities!
Makes: 10-12 servings ~ Active time: 20 minutes
Can make ahead ~ Cooking time: 2 hours
Can freeze
---
---
more recipes with beans-red, white & green
---
Cooking for The King: The book of Torah insights, recipes and practical tips designed to bring majesty to the mundane.