Whoopie Pie Recipe




& three of our best fillings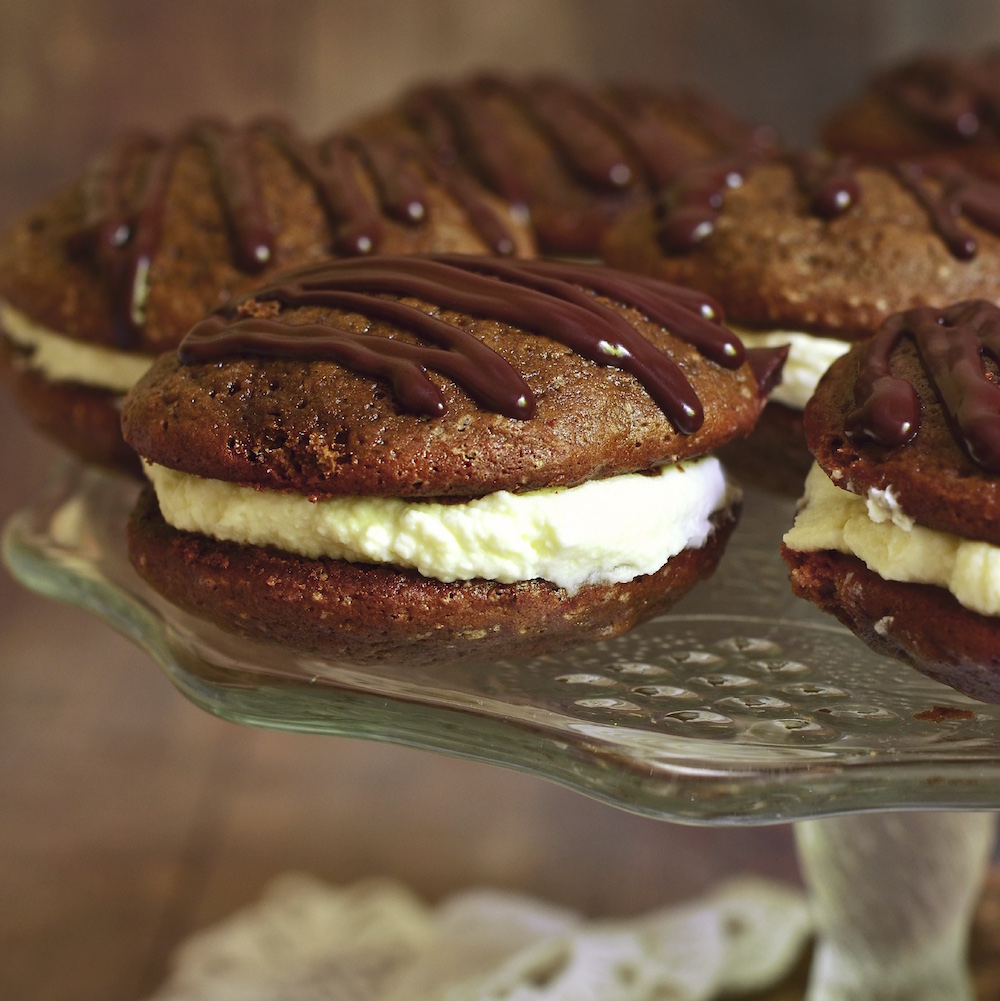 Whoopie! How to make whoopie pies recipe and three of the best fillings to choose from. Fun and delicious kosher dessert, pareve or dairy.  Here's my easy recipe for how to make a memorable chocolate dessert.

Oh, and did you know there is actually a festival every year celebrating whoopie pies?   Yup, they are that good. I can really celebrate chocolate's history and health benefits, though. Read about that here... (& no, that does not make them healthy, but can we pretend?)

---
Whoopie Pie Recipe and three fillings
Make this easy with cake mix!

Cookies:
1 box chocolate cake mix
1/2 cup milk or water
½ cup vegetable oil
3 eggs
Filling:
#1: 3 cups favorite buttercream icing

#2: marshmallow cream
#3: Fluffy Cream Cheese Filling-recipe follows 
Garnish-chocolate icing, warmed
1. Heat oven to 350°F. Line cookie sheets with parchment paper.
2. In large bowl, beat cake mix, milk or water, oil and eggs with electric mixer on low speed until moistened. Beat on high speed for 1 minute.
 3. Using a 1 small ice cream scoop or tablespoon, drop the batter in 1 to 1 1/2-inch diameter circles onto cookie sheets leaving about 1-inch all around to allow for spreading. Bake 10 to 12 minutes until set being careful to not over bake.
 4. Cool 2 minutes in pan, then remove from cookie sheets and place on cooling rack to cool completely before filling.
 5. Spread filling on flat side of one cookie. Top with the second cookie, flat side down to make a sandwich. Drizzle with chocolate icing if desired.
Fluffy Cream Cheese filling 

 16 ounces cream cheese, softened

1/2 cup unsalted butter, softened
2 cups confectioners' sugar, sifted
2 teaspoons vanilla extract
1. Beat together cream cheese and butter until light and fluffy.

 2. Slowly add in the confectioners' sugar and vanilla extract & beat on low until incorporated, then beat on high for 2 minutes, until frosting is light and fluffy.
 3. Refrigerate until ready to use, allow to soften before spreading onto cookies.
Active time: 20 minutes       Total time: 1 hour
Must make ahead         Can freeze unfilled cookies* 
*If you freeze the cookies, they are even easier to fill!
---
Thank you for joining me in my kitchen today, I hope you will please tune in again soon~ Renee
---