Shavuot Cheesecake Recipes
                      s-I-M-P-L-I-F-I-e-d
Shavout cheesecake recipes, simplified. One cake three ways and the incredible three ingredient cheesecake! 
---
One Perfect Cheesecake Recipe, three delicious ways to enjoy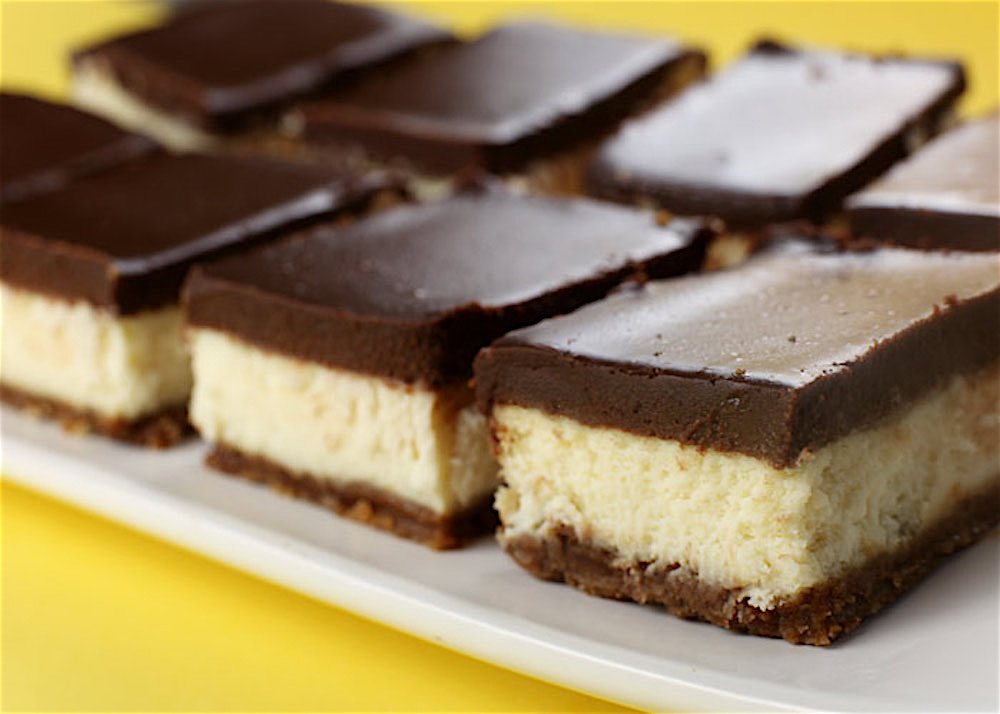 Cheesecake Bars Three Ways

Crust:
2 cups graham cracker crumbs
4 tablespoons butter, melted
1 pinch cinnamon or
      1 teaspoon cocoa powder
 Cake:
2 (8 oz.) packages cream cheese, room temperature
2/3 cup sugar
2 eggs
2 Tablespoons lemon juice
1/2 teaspoon vanilla extract
1. Preheat oven to 350º. Butter a 9×13-inch baking dish and line with parchment paper, leaving a 2-inch overhang on both sides. 
2.  Place graham cracker crumbs in a large bowl and mix in melted butter and cinnamon until crumbs are just moistened. Add 1 teaspoon cocoa powder instead of cinnamon to the chocolate version.
3. Press cookie mixture evenly into the bottom of greased baking pan and refrigerate.
4. In a large bowl beat cream cheese with an electric mixer until smooth. Add eggs one at a time, then add sugar and lemon juice, beating on medium until fully combined and incorporated.
5. Spread batter over chilled crust and use a spatula to smooth the top.
6. Cover with topping choice, see below.
7. Bake for 25-30 minutes, or until the center is just set, but moves a bit when jiggled. Turn off oven. After 15 minutes, remove cake from oven and let cool completely before refrigerating at least 4 hours, or overnight.
8. To serve, remove from pan using parchment paper overhang to help keep the cheesecake in form. Cut into squares and serve chilled.
---
#1 Apple Streusel Topping:

3 apples, finely chopped

1/2 teaspoon cinnamon
1/4 teaspoon ground nutmeg
2 Tablespoons sugar
 Mix above ingredients together. Step 6 spread over unbaked cake, and top with streusel:
Streusel:
1 cup firmly packed brown sugar
1 cup flour

1/2 cup quick cooking oats
1 stick butter, softened 
Pulse together in food processor and sprinkle over apple topping. Continue with step 7.
Serve drizzled with Caramel Topping, if desired
---
#2 Blueberry Topping:

Step 6: Sprinkle 1 cup fresh blueberries evenly over the cheesecake, then spread 1 (10 ounce) jar blueberry preserves on top. Continue with step 7.

#3 Chocolate Topping:

After the oven is turned off, in Step 7, while cake is still in the oven, sprinkle top with chocolate chips and close the oven door. After 10-15 minutes remove cake and spread the melted chips over the top of the cake.

This gluten free cheesecake recipe offers a light and fluffy alternative to rich and dense cheesecakes. It is adapted from epicurious.com uses only three ingredients! If you use pareve white chocolate, it can be served with a meat meal. get the recipe....