Ruby Cookies
a.k.a. the best Parve Chocolate Chip Cookies you have ever tasted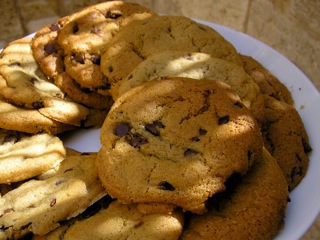 Around our house we call these Chocolate Chip Cookies "Ruby Cookies" because none of us can make them as delicious and chewy as my daughter, Ruby.
Baking is a real weakness of mine, so Ruby steps in and makes our delicious desserts. And to compensate for my Sephardic tastes, her sister is Queen of Ashkenazi comfort food. You'll want to try Elise's awesome deli roll.
I see how our daughters have become accomplished in areas that challenge me. They have developed their innate talents in areas where they see their skills are needed, and I see how my culinary weaknesses have been fertile ground for them to excel. And so, my shortcomings have fueled their growth.

Observe how our limitations give our children an opening to explore their innate gifts. Our lack helps each child identify their one-of- a-kind part in contributing to the whole of our family. The Creator "limits Himself" so that we can exercise our free choice and play the role for which we are destined. This is ultimately how we reach our potential and reveal Hashem's Glory.
---
RUBY COOKIES
3/4 cup shortening  (lighten up!)
1 1/4 cups light brown sugar, firmly packed
2 tablespoons soy milk
1 tablespoon vanilla
1 egg
1 3/4 cup flour
3/4 teaspoon salt
1/2 teaspoon baking soda
1 cup chocolate chips
1. Preheat oven to 375. Line two large baking pans with aluminum foil, shiny side down, making sure there are no ridges and that the foil is completely smooth. Set out racks to cool cookies.
2. In a large bowl, combine shortening, sugar, milk and vanilla. Beat at medium speed until well blended and creamy. Beat egg into creamed mixture. 
3. Combine flour salt and baking soda and mix into creamed mixture until just blended, do not overmix. Stir in chocolate chips.
4. Using an ice cream scooper, drop balls of cookie dough staggered 2" apart onto a prepared cookie sheet. Usually eight will fit in the pan. 
5. Bake one sheet at a time in the preheated oven for 9 minutes just until the edges brown, they will appear to be a little undercooked. 
6. Remove from oven, cool for 3 minutes on the cookie sheet, then with a very thin spatula, remove the cookies to the cooling rack to cool completely. 
Makes about 26 cookies
Can make ahead ~ Can freeze 
Active time: 20 minutes ~ Cooking time: 30 minutes
---
Want a margarine free, shortening free cookie recipe?  Looking to lighten up? I have an excellent chocolate chip cookie recipe using oil instead of margarine or shortening. Try these Healthier Chocolate Chip Cookies.