Part cinnamon rolls, part cookie and completely yummy...
Cinnayums!
These mini cinnamon rolls get gobbled up with glee every time they come out of the oven. Be sure to spread the icing while the rolls are still warm.
---
Cinnayums~from Cooking for The King
1 pound challah dough -see The Challah Recipe

2 teaspoons shortening
2 tablespoons cinnamon

1/4 cup brown sugar, firmly packed

1/4 cup finely chopped nuts, optional 

1 egg, beaten
1. On a flat floured surface roll dough into 2 large rectangles 1/4 inch thick. 
Spread dough with a thin layer of shortening. Sprinkle and spread the cinnamon, sugar and optional nuts over entire surface of each rectangle, leaving about 1 inch border on all four sides.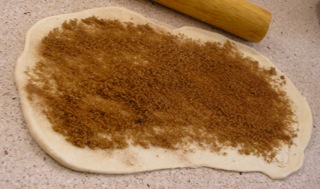 2. Roll the dough, jelly roll style into two long snake shapes. Press the loose edges into the dough to seal.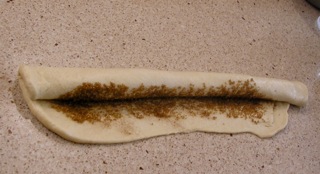 3. Coat the bottom of a 9x13 inch baking pan with shortening or baking spray. Slice each log into 1/2 inch discs and place, sides touching, in the prepared pan.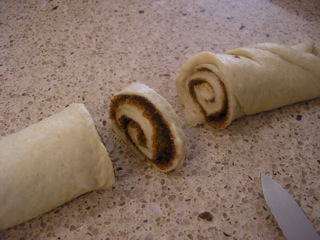 4. Allow to rise in a draft free area for 30 minutes to one hour. Preheat oven to 400 degrees.
5. Brush tops with beaten egg. Bake in the preheated oven for 10-12 minutes until golden. Make the icing. Remove from oven and spread icing over the top while the cinnamon rolls are still warm.
Cinna-yums! icing
---
1-1 1/2 cups confectioners' sugar

1 teaspoon vanilla extract or flavoring
1-3 tablespoons water
In a small bowl mix together sugar, vanilla and 1 tablespoon of the water. Stir vigorously with a fork until smooth, adding a little water as needed to reach a creamy, spreadable consistency.
Serves 12-14~ Can freeze
Active time: 15 minutes
Rising & cooking time: 40-70 minutes