Cook Once Eat Twice
These two cook once eat twice recipes offer a simple style of meal planning. A few minutes planning and preparing ahead one day can gift you an hour or two the next day. Be sure to read these tips tips to get you started.

---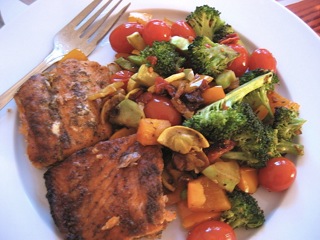 First Night Savory Fish Dinner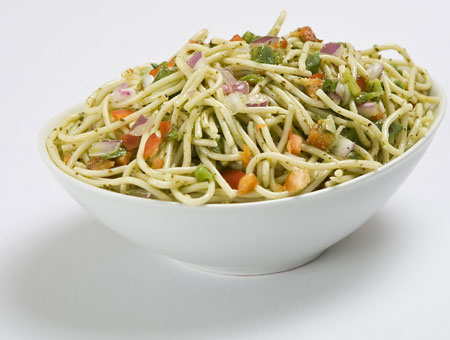 Planned Ahead Pasta Primavera
First Night Fish Dinner with roasted vegetables 
The first night, enjoy a simple fish dinner of your family's favorite vegetables, almost effortlessly cooked to perfection. Sure, vegetables are not often going to win raves with your kids, but it's good to get in a few tries! So, add a baked or sweet potato just to fill them up. You'll have your next night's meal practically made. 

You'll need:
-Sweet or Baking potatoes
-Any firm fleshed fish
A variety of 3-4 kinds of fresh vegetables such as onions, broccoli, summer squash, zucchini, mushrooms, cauliflower, tomatoes, colorful peppers, green beans.

Now you have a delicious dinner of fish, baked potato (plus a few for healthy snacking) and roasted veggies. Tonight's dinner is ready, and tomorrow's is already underway. 

One hour before dinnertime:
1. Wash a few more than enough baking potatoes for your family's meal tonight. Pierce their skin several times with the tines of a fork. Coat in a thin layer of olive oil and roll in your favorite seasoned salt. Place on a baking sheet into a 400-degree oven for 1 hour. –The extra potatoes make great snacks: halve them, scoop out some of the flesh, fill with roasted veggies tossed with potato and cheddar cheese. Top with more cheese and broil until cheese melts.
2. While potatoes are baking, cut a generous array of your family's favorite vegetables into edible pieces. You should have about 8-10 cups of raw veggies. Toss them in a big roasting pan with a bit of olive oil, kosher salt and dried herbs. Cover with foil and place in the 400-degree oven cook for half an hour, then uncover them and keep roasting until tender, stirring after 10 minutes. –Reserve half the vegetables for Pasta Primavera.
3. While vegetables are roasting, bake any fish filet in the same oven on a lower shelf for 20 minutes until the flesh is firm and opaque. Try these simple baked fish recipes, and planned over recipes , more time saving ways to cook once, eat twice.

---
Second Night Creamy Pasta Primavera-
Pasta Primavera is an Italian pasta dish than often sways those with an aversion to vegetables. Primavera is Italian for spring, and the dish is designed to use any seasonal vegetables. Onions, broccoli, summer squash, zucchini and mushrooms are commonly added. Corn, cauliflower, tomatoes, colorful peppers, peas and snow peas, are also candidates to toss into this adaptable dish. 
You'll need sturdy pasta to hold up to the weight of the vegetables. Our favorite is fettuccine; thick spaghetti noodles, penne and bow ties work well too. 
It gains favor with all ages when its creamy sauce gets blended with the pasta and vegetables just before serving. Top with more freshly grated cheese, and if you like, pine nuts or chopped walnuts are a nice touch.
You'll need:
-2 to 3 cups Wall Street Pareve Ranch Dressing
OR: -12 ounces cream and 1-cup fresh grated Parmesan cheese 
- 3 to 4 cups cooked vegetables (from day one)
-1 pound pasta
Fresh herbs such as basil, parsley, oregano if available to taste.
OR 1 1/2 teaspoons dried herb mixture –Italian or my favorite: herbs de Provence, it gives a pop to pastas like this dish and you'll sprinkle it on garlic bread, pizza and a lot more.
-Toasted pine nuts or walnuts, optional
15-20 minutes before dinner: 

1. Boil pasta according to package directions, drain (reserve 1 cup pasta water) and toss with olive oil. Place pasta in a large serving bowl or return to the pot. 
2. Make a creamy dairy Alfredo style sauce if you are not using Ranch Dressing: In a large pan, stir together the cream, Parmesan cheese and enough reserved pasta cooking water to make a creamy consistency. Add salt and pepper to taste. Warm over medium-low heat, until melted and well blended, stirring occasionally.
3. Toss pasta, vegetables and herbs lightly in the pan with your sauce. To serve, top with more grated cheese and nuts, if using. 
Dinner is served! 
---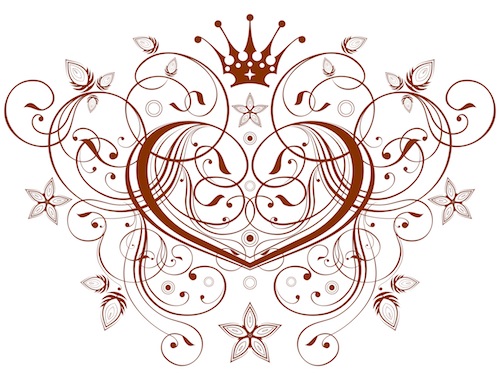 Time is priceless. When you fill a moment with prayer, it is a treasure never lost or wasted.

---
More cook once, eat twice menu planning ides here:
---