my favorite & it's easy
 Ratatouille Recipe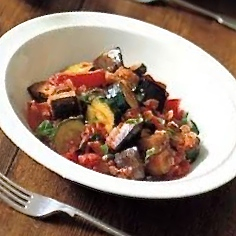 Ratatouille (rat-ə-too-ee) is a traditional French Provençal stewed vegetable dish. Variations abound along the entire Mediterranean coast as an easy warm weather dish.  
Usually served as a side dish, it can be used as an appetizer with toasts or crackers, a topping for pasta or rice for a hearty vegetarian main dish.   Simmer fish filets in ratatouille for a Provençal Fish Stew. 
MY FAVORITE RATATOUILLE RECIPE
1 yellow bell pepper, seeded & cut in 8 pieces
1 green bell pepper, seeded & cut in 8 pieces
1 eggplant unpeeled, cut in 2" cubes 
3 tablespoons kosher salt
1 onion, diced 
2 tablespoons olive oil

Sauce:
1/2 cup tomato sauce
2 garlic cloves, minced
2 tablespoons sherry or dry
white wine 1 tablespoon sugar
1 teaspoon kosher salt
1/2 teaspoon red pepper flakes, optional

1. In a small bowl, whisk together sauce ingredients. 
2. Heat oil in a large, heavy pan over high heat. Add bell peppers, pressing down and turning until both sides are charred. Remove peppers, repeat with eggplant. After eggplant is charred, add onion, cook together for 5 minutes. Reduce heat to low, add sauce and simmer for 5 minutes. Return peppers to the pan and mix well. Cover and simmer on low heat for 15-30 minutes until vegetables are soft.
3. Tastes best when made ahead; refrigerate for at least 24 hours. Serve warm or at room temperature.
Makes: 8-10 servings ~ Must make ahead, can freeze
Active time: 20 minutes~ Cooking/Standing time: 1 hr., 15 min.
a kosher for Passover Recipe
---