Outrageous Fried Rice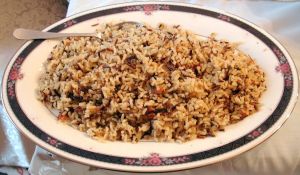 Fried rice is a recipe that tastes better when the main ingredient is 2 days old. Now, that's for me!
Tips: It is most important that you use cold dry rice or you'll have a gloppy mess. In this recipe fresh ginger really makes a difference. When I buy a knob, I cut it into 1" chunks and place the chunks in a freezer bag until I need it in a recipe. Freezing actually improves ginger making it easier to peel, plus more juices release when chopping frozen ginger.
---
Kosher Fried Rice Recipe
2 tablespoons vegetable oil, divided

2 eggs, lightly beaten
4 scallions, chopped
1 teaspoon fresh ginger, minced
2 garlic cloves, minced
3 cups cold cooked rice
3 cups cold cooked vegetables,cut into bite sized pieces (or frozen oriental vegetables)
1-2 cups cold cooked meat, diced
2 tablespoons tamari or soy sauce
1. Heat one tablespoon oil in a large nonstick skillet over medium high heat. When almost smoking, quickly scramble egg. Remove, cut into strips and set aside. To the pan, add scallions, ginger and garlic. Cook, stirring about one minute until fragrant. Do not allow garlic to brown. Remove pan from heat and transfer mixture to a plate.

2. Return skillet to the heat and add remaining tablespoon oil. Add rice, toss to separate and coat with oil. Add cold vegetables and meat. Stir until thoroughly heated.
3. Add reserved scallions and tamari or soy sauce. Cook, stirring one minute then toss in egg. Remove from heat and serve immediately.
Makes: 8-10 servings~Active time: 15 minutes
You can use just about any rather plain leftover rice like this Sephardic Rice to make "Planned Over" Outrageous Fried Rice.
Planned Overs intentional leftovers that busy cooks depend on.
Click here for more Planned Over Recipes.
---
Cooking for The King: The book of Torah insights, recipes and practical tips designed to bring majesty to the mundane.