Garlic Rolls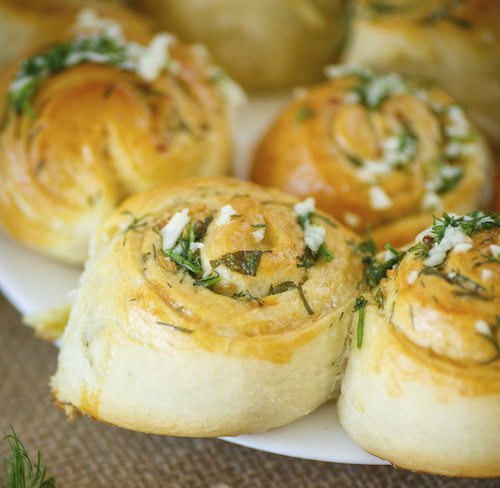 Bet you can't eat just one of these  Garlic Twirls, like cinnamon rolls for the grown ups~
Who doesn't enjoy soft, warm garlic rolls with dinner? The next time you make Cooking for The King's Challah Recipe set aside some of the dough to make these delicious savory dinner rolls. I bake them in round disposable aluminum foil pans, cool and wrap them very well in foil then slip them into a zip top freezer bag and freeze for up to a month. Thawed and warmed in at 350 degree oven for 10 minutes, they taste like I baked them fresh that day. 

Garlic Rolls Recipe

from Cooking for the King
2 pounds challah dough (recipe here) 

2 medium onions, peeled and minced

4 garlic cloves, minced

2 tablespoons poppy seeds, optional
1 egg, beaten
1. In a small bowl, mix together onions, garlic and poppy seeds if using. On a flat floured surface, roll 1 pound of the dough into a large rectangle 1/4 inch thick. Spread half of the filling over entire surface, leaving a one inch border on all four sides. Starting at the long side closest to you, roll the dough, jelly roll style into a long snake shape. Press the loose edge into the dough to seal. Repeat with second pound of dough.
2. Coat the bottom of two 9x13' baking pans with baking spray. Slice the roll into 1/2 inch discs and place, touching, in the prepared pan. Allow to rise in a draft free area for 30 minutes to one hour. Preheat oven to 400 degrees.
3. Brush tops with beaten egg. Bake garlic rolls in the preheated for 10 to 12 minutes until golden.
Serves 12-14 ~ pareve ~ Can freeze
Active time: 15 minutes Rising & cooking time: 42-72 minutes
---
---