The Best Kosher Chicken Fingers Recipe


with 3 special sauces & the secret for keeping them moist and delicious~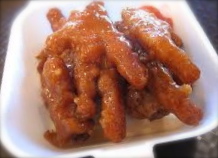 This kosher Chicken Fingers recipe is truly designed for the Queen of the Kitchen. One basic recipe, three different sauces give you plenty of family pleasing options without a ton of work.
Plus, I am giving away one of my best Queen in the kitchen secret cooking tips: bottled Italian salad dressing is the absolute best chicken breast marinade to keep the meat from tasting dry. Just try it, you'll thank me!
I like to double the amount of chicken needed and prepare half of the chicken up through step 3. Then I just freeze the unsauced kosher chicken fingers in a single layer. When frozen, they go into a plastic freezer bag ready to pull out for a quick dinner.

These are so good, I often serve them with our Favorite Sauce on Shabbos as a main course.
---
Secret Kosher Chicken Fingers Recipe

6 skinless, boneless chicken breast halves or chicken cutlets, cut into 1/2 inch strips

1 cup bottled Italian salad dressing
1 1/2 teaspoons garlic powder
2 cups soft bread crumbs, easily made from leftover challah whirred in the food processor

1 teaspoon salt
1/2 cup vegetable oil
1. Place chicken strips into a large, resealable plastic bag. Pour salad dressing into bag with chicken. Seal, and refrigerate 4 hours to overnight.
2. In large bowl, mix together the flour, bread crumbs, salt and baking powder. Remove chicken from refrigerator, and drain, discarding marinade.
3. Heat oil in a large, heavy skillet over medium high heat. Place chicken in flour mixture and shake to coat. Carefully place coated chicken in hot oil. Fry 3 minutes per side until golden brown, and juices run clear. Drain on paper towels. Place in a 9X13 inch baking pan.
4. Heat oven to 350 degrees. In a medium bowl, mix desired sauce ingredients. Pour mixture over chicken. Cover tightly with foil and bake 20 minutes.
Serves 8-10 ~ Can Freeze
Active time: 20 minutes ~ Cooking time: 20 minutes
---
Chicken Finger Lickin' Good Sauces:
Favorite Sauce
1/2 cup orange juice
1/4 cup honey
1/4 cup Dijon mustard
Buffalo Sauce
1/2 cup brown sugar
1/4 cup honey
1/3 cup Franks Red Hot Sauce
General Tsao's Chicken Asian Sauce

1/2 cup brown sugar
1/4 cup rice vinegar
2 tablespoons tamari or soy sauce
1 tablespoon toasted sesame oil
3 tablespoons fresh ginger, finely chopped
2 cloves garlic, finely chopped
Hot pepper flakes(optional)
---
more recipes like kosher Chicken Fingers recipe, sides and sweets to finish off a memorable meal....