Kosher Eggs Benedict Recipe
Eggs Royale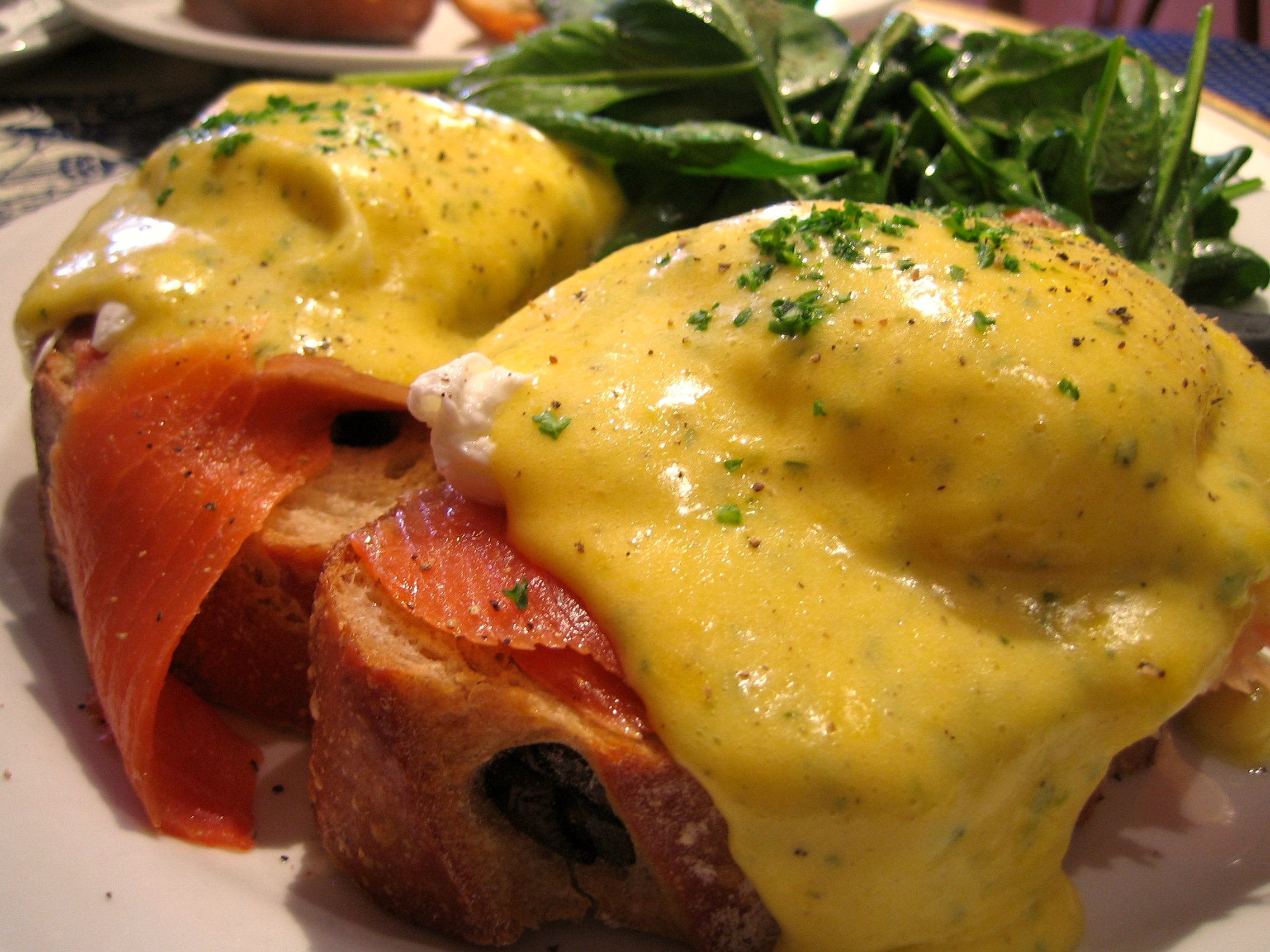 Eggs Royale uses smoked salmon to create a version for rich kosher Eggs Benedict recipe. With this mock hollandaise sauce recipe and tips and directions on how to perfectly poach eggs, it's easier than you think.
Probably the most important secret to making the perfect poached egg is its freshness. To check for freshness, immerse an egg in a clear bowl or measuring cup. A fresh egg will sink and lay flat on the bottom of the bowl. An old egg has more air pockets and will float or stand on one end.
---
Eggs Royale 
4 
ounces soft cream cheese
3 
tablespoons plain yogurt
1 
tablespoon lemon juice
1 
teaspoon Dijon mustard
4 eggs 
1 teaspoon white vinegar
1 tablespoon butter
4 English muffin halves or bagel or thick slices challah
4 ounces smoked salmon or lox
dried parsley or tarragon for garnish
To make easy mock hollandaise sauce:

Into the work bowl of a food processor or blender place cream cheese, yogurt, lemon juice and mustard. Blend until smooth. Before serving warm briefly in microwave. 

To poach eggs perfectly:
Bring a large pan of water to the boil and add the vinegar. Lower the heat so that the water is simmering gently. Stir the water so you have a slight whirlpool, then slide in the eggs one by one. Cook each for about 4-5 mins, until the white is solid and the yolks are covered with a white film. Remove with a slotted spoon, allow excess water to drip off then place on a dry paper towel for a few minutes.

To finish the 

kosher Eggs Benedict recipe

:
Meanwhile, butter and lightly toast bread and place on serving plates. Cover bread with salmon slices. Top with poached egg.

Warm mock hollandaise sauce in the microwave for just a few seconds, stir and spoon 3 tablespoons sauce over egg. Sprinkle with parsley, tarragon or paprika if desired. 
Make ahead tip for poached eggs & Mock Hollandaise Sauce:
Cook eggs as above, remove from water with slotted spoon, then gently and immediately transfer to a container of cold water. Cover tightly and refrigerate overnight. When you're ready to serve, remove with slotted spoon and gently immerse in almost-simmering water for one minute. Remove eggs from water bath with slotted spoon and drain on paper towels.
Mock Hollandaise Sauce will keep covered in the refrigerator for up to 5 days.
---
More recipes you might enjoy:
---