Kosher Fish Louis


a.k.a. The King of Salads~with Remoulade Sauce Recipe bonus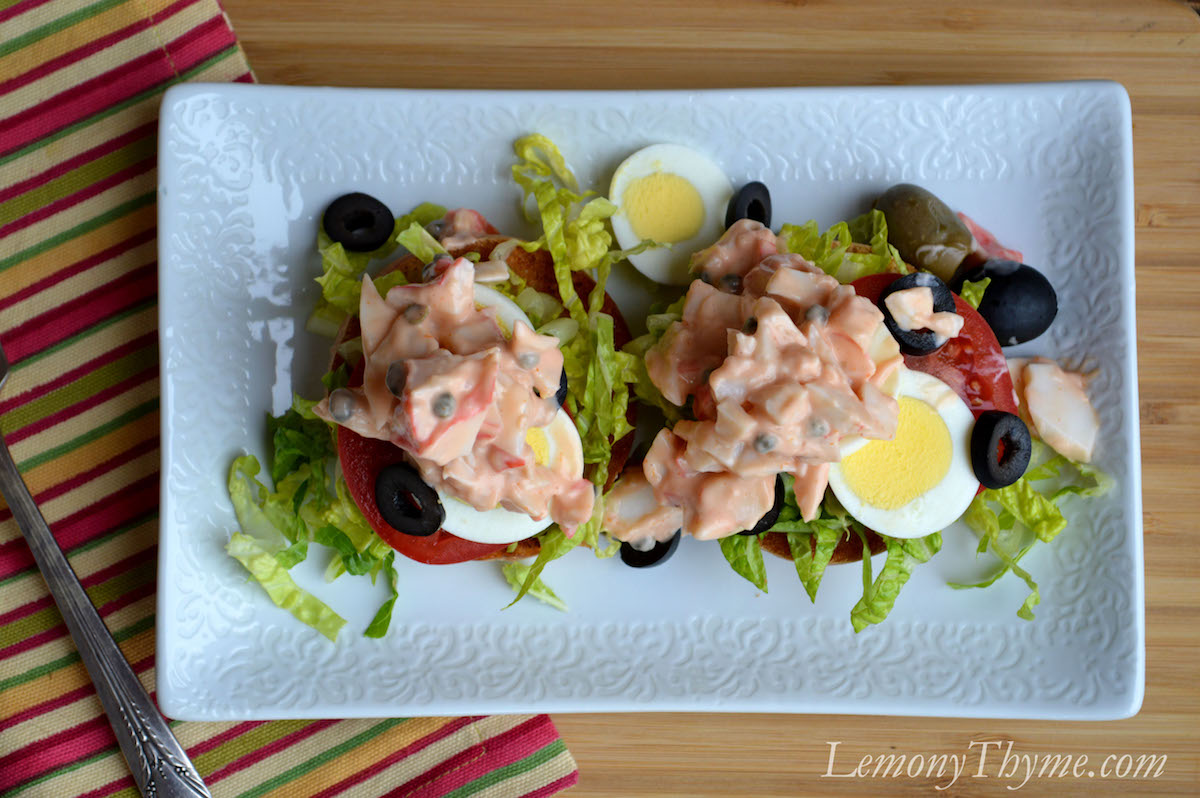 Kosher Fish Louis salad, is my a take-off on a popular restaurant salad first created in San Francisco in the early 1900's and made its way to fame in New Orleans. It usually features non-kosher seafood, but upon seeing the recipe I decided to try my own version using kosher fish.
Known as the "King of Salads,"and because of its ease and adaptability, it fits perfectly in the style of recipes I like to make when I'm Cooking for The King.
The simple combination of ingredients is eye appealing, but what makes this salad one you'll comeback to again and again is the Remoulade dressing with two versions below.  Fish Louis Salad meets all four of my "D-I-S-H" requirements:
Delish!~
Ingredients~you'll find in any grocery store
Simple~goes together in under 20 minutes
Has Adaptablility~use any assortment of dried fruits and nuts you like
---
The Recipe for Kosher Fish Louis
1 pound surimi or any firm cooked fish: salmon, grouper, bass, smoked salmon
1 cup cherry tomatoes, halved
2 tablespoons lemon juice
2 heads romaine lettuce, cut in bite sized pieces
1 cup Remoulade Sauce (recipe below)
4 large hard boiled eggs, sliced or grated
optional additions: avocado, olives, asparagus
1. Break fish into bite sized chunks. In a medium bowl, gently mix fish, tomatoes and lemon juice.

2. Toss lettuce with just enough Remoulade Sauce to lightly coat the leaves, then mound dressed lettuce on salad plates. Top with fish mixture, drizzle with remaining Remoulade sauce and garnish with grated egg.
Salad Recipe makes: 10-12 servings ~ Can make ahead, partially
Active time: 10 minutes
a kosher for Passover Recipe
---
Two Remoulade Dressing Recipes for Fish Louie Salad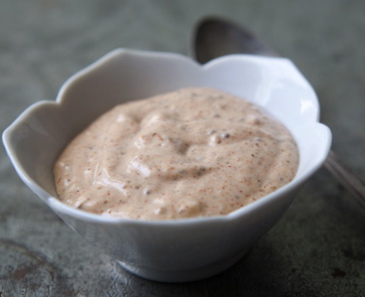 Remoulade is like the tartar sauce of the French. The port city of my hometown, Mobile, Alabama was once the capital of French Louisiana and the food of the area still bears this influence. The dressing is THE deal for this salad.
I'm giving you our favorite versions of Remoulade Sauce, one because it's easy and I know you'll make it. The second as a lagniappe (lan' yap). Just a little something extra that you weren't expecting, thrown in to make you smile.
Simple Remoulade Sauce 

It's hard to believe this simple, humble combination can make everyone so happy. The ingredients are so run of the mill, I am almost embarrassed to tell people what's in this sauce when they ask for the recipe. But that is the Queen in the kitchen style~making more of the mundane than meets the eye, or the taste buds in this case. 

1/4 cup ketchup
1/4 cup prepared horseradish
1/2 cup mayonnaise
1/2 teaspoon lemon juice
In a small bowl, stir sauce ingredients until blended.
Makes 1 cup (but maybe you should triple it!)

---
Alabama Remoulade Sauce
A long list of ingredients each contributes a specific flavor and blends into this smooth piquant sauce, kind of like family. Great with anything from tuna sandwiches to French fries. 

1 cup ketchup
2 tablespoons tomato paste
1/2 cup mayonnaise
2 teaspoons yellow mustard
1 tablespoons prepared horseradish
2 garlic cloves
1/2 dill pickle
4 green olives

1 tablespoon lemon juice
1 green onion, in 3" pieces
1 tablespoon fresh parsley
1/2 bell pepper, cut in 3" pieces
1/2 teaspoon sugar
1 tablespoon A-1 Sauce
1 tablespoon Worcestershire sauce
dash Tabasco
1/2 cup olive or vegetable oil
1. Place all ingredients except oil in the work bowl of food processor and blend until smooth.

2. With motor running, add oil in a slow stream. Continue processing until dressing is thickened.
Makes 2 cups

---
photo credit Lemony Thyme
---