Southern Kosher Turkey Recipe


with finger lickin' gravy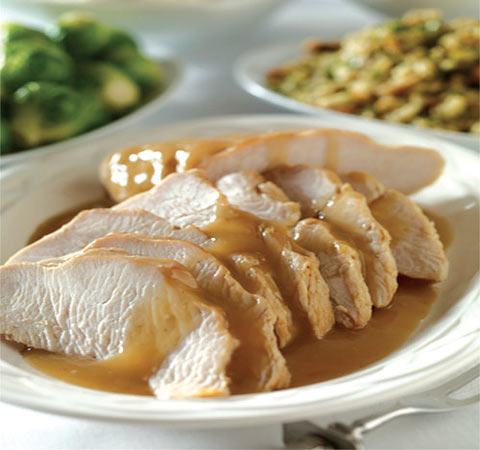 What could be better than a down-home southern kosher turkey recipe at any holiday meal? Southern seasonings, like southern recipes rely on the basics. Generously sprinkled with salt and pepper, this kosher turkey recipe, even with the gravy, requires just a few steps.
A whole turkey takes several hours to roast, but it's worthwhile as an easy and elegant crowd pleaser. Anyway, who can resist that aroma?
Turkey & Gravy Southern Style
1 (12-14 lb.) turkey, thawed if frozen
make note of exact weight*
1/4 cup canola oil, divided

2 teaspoons kosher salt, divided

1 teaspoon pepper, divided
3 large onions, peeled and sliced thickly
1 medium onion, peeled and quartered
1 heads garlic, halved crosswise

2 teaspoons dried thyme

2 bay leaves
1. Preheat oven to 325 degrees. Spray a short sided (no more than 3"), heavy roasting pan with vegetable spray. Place sliced onions in a single layer in the bottom of the pan. Pat turkey dry with paper towels and immediately discard towels. Place turkey, breast side up, on the sliced onions. Rub skin with half the oil and sprinkle with 1 teaspoon of the kosher salt and 1/2 teaspoon pepper.

2. Sprinkle remaining salt and pepper inside turkey cavity then stuff with quartered onion, garlic, thyme, and bay leaves. Use kitchen string to tie the turkey's legs together, pressing the legs close to the turkey body.
3. Cut a large piece of heavy duty foil and fold in half. Place turkey into preheated oven and tent foil over turkey. Roast 8 minutes per pound.* Remove foil, brush with remaining oil and increase oven temperature to 400 degrees. Roast turkey another 3-4 minutes per pound, tenting with foil if skin begins to burn. Turkey is done when thigh juices run clear when pricked with a fork.
4. Remove from oven and place turkey onto a carving board. Allow to stand 15-30 minutes before carving as it will continue to cook and absorb its juices. Now, you can make the gravy...
Southern Gravy


gives your kosher turkey recipe a tasty twang
1 (14 1/2 oz) can chicken broth

1 teaspoon salt
1/2 teaspoon pepper
1/2 teaspoon dried thyme

garlic from turkey

2 tablespoons cornstarch
1. While your turkey is resting, remove onion slices, skim and discard fat from pan juices. Place the roasting pan with juices directly on stove a burner over medium heat. Add canned broth and seasonings, stirring up browned bits from bottom of the pan with a metal spatula. Simmer 3 minutes.

2. Lower heat and gently squeeze pulp from the garlic into the juices. Mash the garlic into the sauce and stir to incorporate.
3. In a small bowl, stir together cornstarch and 1/4 cup water. Add 1/4 cup of the broth to the bowl containing the cornstarch mixture and mix well. Stir the cornstarch mixture into the roasting pan on the burner and stir continuously 1-2 minutes until gravy thickens. Remove from heat immediately. Serve in a separate bowl along with turkey.
serves: 15-20 ~ can make ahead
Active time: 40 minutes ~ Cooking Time: 2-2 1/2 hours
---