Smashed Potatoes


with roasted garlic and potato skin "crunchies"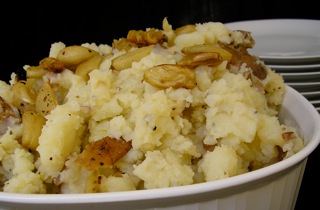 Smashed Potatoes are the perfect make ahead complement for any meat dish from hamburgers to roast beef. 
These are just not your ordinary mashed potatoes. Chunky, creamy, dotted with rich roasted garlic and topped with salted crisp potato skins. Smashed potatoes are like loaded potato skins turned inside out! 
the smashed potato recipe
2 pounds  potatoes*

2 tablespoons olive oil 
2 heads garlic 
2 tablespoons margarine
2 tablespoons (pareve) sour cream
1 1/2 teaspoons salt

1 teaspoon pepper
1 tablespoon olive oil
1 teaspoon kosher salt
*baking or yukon gold work best in this recipe
1. Preheat oven to 425 degrees and position rack in middle slot. Pierce each potato several times with a fork, then rub each potato with oil. Cut each head of garlic in half crosswise, drizzle with oil and place halves back together. Wrap garlic in foil.

2. Place potatoes and garlic on a large baking pan and roast for one hour. Remove garlic. Test potatoes by piercing with a fork. If no resistance is met by meat of potato, it is done. If potato resists the fork, bake another 10 to 20 minutes until easily pierced. Potatoes need to be very tender to achieve desired consistency.
3. When potatoes are tender, remove pan and change position of rack to the uppermost slot, leaving the oven on. Holding a hot potato in your hand protected with an oven mitt, halve each potato while still hot. Scoop out the pulp a large bowl. Reserve the skins. Add margarine and sour cream to the potatoes. Open garlic packets and squeeze the softened garlic into the bowl.
4. Using the back of a firm spatula, gently smash and stir the potatoes with the other ingredients. The object is to move things around enough so that the flavors are absorbed by the potatoes, still leaving soft potato chunks throughout. Add salt and pepper.
5. Slice reserved potato skins into 1/4" strips. Spread in one layer in the baking pan, drizzle with oil and sprinkle with kosher salt. Roast the skins 10 to 15 minutes in the preheated oven until crisped. Remove from oven and cool to room temperature. When ready to serve, sprinkle the "crunchies" over the warm potatoes.
Makes: 4-6 servings ~ Can make ahead
Active time: 20 minutes ~ Cooking time: 1 1/2 hours total
Planned Over Recipes
---
More Potato Recipes...
---