Balsamic Roasted Onions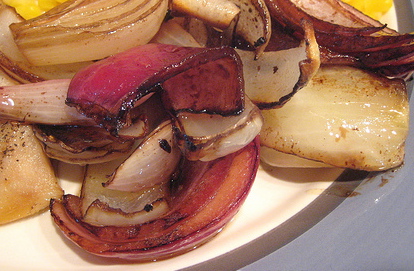 Rich and buttery tasting, balsamic roasted onions pair naturally with simply grilled chicken or beef. Because they keep well for over a week, roasted onions are ideal for "planned-overs." Improve sauces or plain spaghetti; add to fajitas and veggie burgers, top a baked potato or individual pizzas. 
~That's cooking
Queen in the Kitchen style!~
BALSAMIC ROASTED ONIONS
3 pounds yellow onions, peeled, cut into eighths

3 tablespoons olive oil
3 tablespoons balsamic vinegar, divided
1. Preheat oven to 400 degrees and position rack in uppermost slot.

2. Toss onions with the oil and spread in heavy baking pan large enough to hold onions in one layer.
3. Roast in the preheated oven for 20 minutes. Open oven, quickly sprinkle with 1 tablespoon of the balsamic vinegar and stir with a metal spatula. Close the oven and roast onions for 20 more minutes.
4. Open oven again and quickly sprinkle another tablespoon of the vinegar over onions, especially around the darker edges. Using the metal spatula, scrape bottom of pan to release browned bits and stir into onions. Close the oven and roast for another 20 minutes.
5. When the onions are dark and soft with some blackening around the edges of the pan, remove them from oven and quickly sprinkle remaining tablespoon of vinegar over hot onions, scraping up browned bits and stirring well.
Makes: 2 cups ~ Can make ahead
Active time: 15 minutes ~ Cooking time: 1 hour

---
Cooking for The King: The book of Torah insights, recipes and practical tips designed to bring majesty to the mundane.