Stuffed Chicken Breasts

with Tomato and potato stuffing on a bed of lemon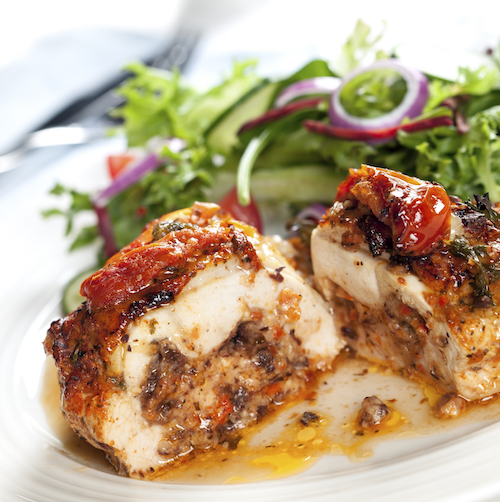 Always looking for a new way with chicken? Stuffed Chicken Breasts are easier than you think. And how to keep them from drying out? My secret is to marinate in Italian salad dressing, it really works!
This recipe is the perfect thing to serve on Passover, as the stuffing is made with mashed potatoes. It made it's debut in my sukkah one night when I needed a dish for my gluten-free guests.  I'm sure you'll find just the right occasion-they are make-ahead friendly. 
photocredit@istockphoto:robynmac

Stuffed foods are the hallmark of Sukkot menus. After the heady month plus of introspection, tshuva (repentance) and prayer, our fate has been sealed for the year (Hoshna Raba, the last day of Sukkos is the final seal, some say Chanukah).  We will not know the outcome of our efforts until next Rosh Hashanah, but we are grateful for the opportunity we've had  to clean up our act and make room for abundant blessing. Sukkos is a time of celebration and confidence that, although our blessing is hidden for now, its revealed good will unfold at the right time. And so, delicious food wrapped in more delicious food, expresses this special relationship we have with the Almighty.
Stuffed Chicken Breasts with Sun Dried Tomatoes and Lemon
8 boneless chicken breasts, cut as schnitzel or pounded to ¼'
1 cup Italian salad dressing bought or homemade
2 -3 tablespoons oil, divided
2 onions, finely chopped
2 cups mashed potatoes, instant or leftover at room temperature
8 sundried tomatoes, thinly sliced (see note)*
1 teaspoon garlic powder or granules
1 teaspoon salt
½ teaspoon dried thyme or basil
½ teaspoon pepper
1 lemon, sliced thinly
1-1 ½ cups breadcrumbs or panko
1 tomato, sliced
¼ cup lemon juice
1. Marinate chicken in Italian salad dressing for 4 hours to overnight. Remove from marinade and discard marinade.
 2. In a large skillet over medium high heat, pour 1 tablespoon of the oil and cook onions, stirring occasionally for 10 minutes, or until brown.  Add sundried tomatoes and mashed potatoes. Remove from heat and stir until incorporated.
 3. Prepare a 9 x 13" baking pan with a tablespoon of the oil or you may use cooking spray. Place lemon slices in one layer in the bottom of the pan
 4. Pour breadcrumbs or panko into a plate. Place one chicken breast on breadcrumbs. Spread potato mixture over chicken, leaving about ¼ inch border all around without potatoes. Gently roll up, and secure with a toothpick, rolling in breadcrumbs to coat on all sides.
5. Return skillet to medium heat and add remaining tablespoon of the oil to cover bottom of skillet. Cook chicken, turning only once until brown on each side then remove to the prepared baking pan. As chicken cooks, repeat step 4 with remaining chicken and stuffing.
6. Preheat oven to 350°. Top each chicken roll with a tomato slice and pour lemon juice over all. Cover pan tightly with foil and bake 30 minutes. Remove from oven. Slice each chicken roll into 3 to 4 pieces and serve with sauce in baking pan.
*If using dried sun dried tomatoes, soak in warm water for 20 minutes, then remove from water, slice and continue with recipe.
Active time: 30 minutes     Cooking time: 30 minutes +marinating time
MAKE AHEAD: Keeps, tightly covered in the refrigerator for 3 days. To freeze, place unsliced chicken in a freezer container. Thaw in the refrigerator and warm in oven or blech.
---
More stuffed deliciousness..