Tree Hugger Tart Recipe
time to celebrate with all sorts of tree treats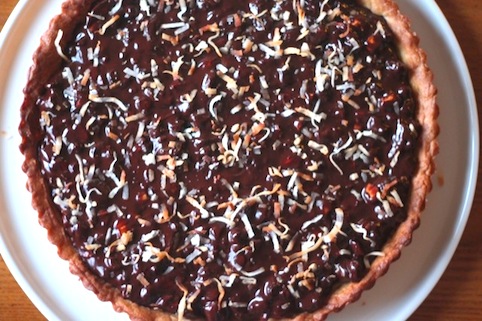 You don't have to be a tree hugger to have fun with this Tree Hugger Tart recipe. It's OOHEY, GOOHEY AND SIMPLE.
This lovely dessert meets all four of the Queen in the kitchen "D-I-S-H" requirements:  Delish - Ingredients~you'll find in any grocery store - Simple~goes together in under 20 minutes- Has Adaptabilty~use any assortment of dried fruits and nuts you like
---
---
TREE HUGGER TART
1 frozen pie crust, thawed

1/4 cup raspberry or cherry preserves
1/3 cup coconut milk
12 ounces, plus 2 tablespoons (for toppping) carob or chocolate chips
1 cup unsalted nut mixture, coarsely chopped
1 cup dried fruit mixture, coarsely chopped

1/2 teaspoon kosher salt
2 tablespoons toasted coconut
1. Preheat the oven to 400°F. Line a 9 or 10 inch tart pan with a removable bottom with pie crust, trim to fit. Bake in preheated oven until golden, about 10 minutes. Remove from oven to cool.

2. In a medium saucepan over medium high heat, bring the coconut milk to a simmer, reduce heat to low and add the 12 ounces of the carob or chocolate chips. Stir until melted. Remove from heat. Stir in nuts, the dried fruit and salt.
3. Spread botom of pie shell with preserves. Spread the still warm chocolate fruit/nut mixture evenly over the preserves. Sprinkle the top with reserved chips and toasted coconut. Chill at least 2 hours until set. Best served at room temperature.
Serves 10-12~Must make ahead
Active time 20 minutes~Total time 2 hours, 20 minutes
---
Cooking for The King
by Renee Chernin
The book of Torah insights, recipes and practical tips
designed to bring majesty to the mundane.