The Poultry and Chicken Recipes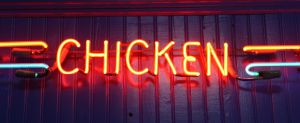 Here are the best kosher chicken recipes from the book that inspired this website, Cooking for The King. I'll be posting some of the delicious kosher recipes on the site, and when the book eventually, iy"H, comes out, you'll be able to make them all.
Meanwhile, if there's a chicken recipe that you think looks especially tasty, just email me and I'll try to put it up for you. Oh, and be sure to sign up for the newsletter for the latest recipes, tips, Torah insights, kosher cooking videos and interesting ideas~designed for you,

~Queen of the kitchen~
Chine-easy Chicken ~
Apricot Chicken ~
Caramaleized Onion Chicken ~believe me you'll be asked to share this easy chicken recipe You'll find it now in Cooking for the King, volume one!
Moroccan Chicken Salad ~
Chicken Francaise ~
Chicken Marsala~
Southeast Asian Chicken ~
Middle Eastern Chicken Kabobs~ A Cooking for The King exclusive new kosher chicken breast recipe. See the how-to video!
Wild Rice Chicken Pilaf ~ A simple chicken and rice recipe elevated to elegant
Chicken with Lime, Scallions and Parsley~
Simple Roasted Lemon Garlic Chicken ~makes a luscious sauce, it's my go-to recipe for a delicious easy Friday night chicken dish
The Pomegranate Paradox ~see this in Cooking for the King, volume one
Chicken Rimon~ ~see this in Cooking for the King, volume one
Chicken Piquant ~
Chimichurri Chicken ~
Chicken from Turkey~
"Close the Deal" Chicken ~ a.k.a. "Chicken With 40 Cloves of Garlic," and this is the easiest, best recipe I have tried
Chicken with Figs & Orange Sauce~ The sauce is sweet and rich, making this a good dish for Rosh Hashanah
Slow Oven Fried Chicken ~ moist and delicious every time, a great make ahead chicken recipe. And here's a delicious way to use the Oven Fried Chicken leftovers, so make extra, and have a headstart on another meal because you Planned Over

Southern Fried Chicken~
The Secret to a Kosher Southern Fried Chicken
Honey Curry Chicken ~ goes on the grill or in the oven
Southern Smothered Chicken~ good ole' Southern comfort food
Rotisserie Thai Chicken ~
Sesame Chicken Wings ~
"Buffalo" Chicken Wings ~
The Turkey Prince ~
Herbed Breast of Turkey~
Turkey Cutlets with tomato, thyme & shallots~
Cooking for The King has healthy and easy side dishes to go with the kosher chicken recipes "now showing" on The Kosher Channel.
---
Cooking for The King by Renee Chernin
The book of Torah insights, recipes and practical tips
designed to bring majesty to the mundane.
---