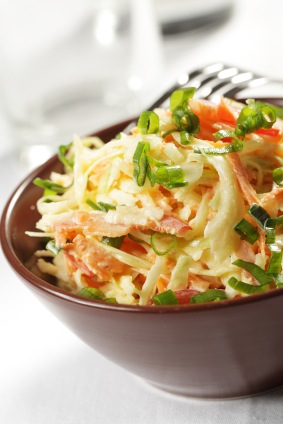 Citrus Slaw is a brightly flavored light salad to serve alongside grilled chicken or fish. The citrus flavors would especially complement this recipe for a delicious Herbed Breast of Turkey.
You'll like crunchy, fresh cole slaw recipes such as Citrus Slaw, Snappy Slaw and other cabbage salads because they can be made ahead and can even improve in flavor after a day or two.
The Coleslaw with Citrus Dressing Recipe
~from Cooking for The King
4 cups shredded Napa or green cabbage
1 cup thinly sliced red bell pepper
1 tablespoon thinly sliced green onions
1/4 cup olive oil
3 tablespoons lemon juice
2 tablespoon orange juice
1 tablespoon honey
1/2 teaspoon salt, or to taste
1/4 teaspoon cracked black pepper
1/4 teaspoon crushed red pepper flakes, optional
1. In a large bowl, toss together cabbage, bell pepper and onion.
2. Place remaining ingredients in a container with a tight fitting lid. Tightly cover, shake well until blended and pour over salad. Toss.