Classic Coffee Cake Recipe
also makes great muffins with a perfect crumb topping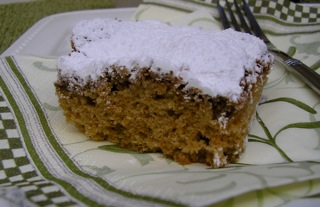 Coffee cake is a timeless classic. Not too sweet for breakfast, a satisfying afternoon treat and a simple finish to a weeknight meal.
Among the wonderful memories I have of my mother in law, a"h, are the times that she and I would linger together at the dinner table nibbling this very recipe, as we cherished the remaining moments of a rare family meal long after everyone else had left the table.
That was how I learned that dessert can be more than the sweet end to a meal. In those moments, I would often glean a gem or two from her treasure house of wisdom. Her modesty and straightforward nature, timeless virtues of the Jewish woman, waft through my home in the aroma of this moist cake.
Streusel Topping:

1 cup flour
1 cup brown sugar
6 tablespoons margarine, cold, cut into tablespoons
1 teaspoon cinnamon
Coffee Cake:

1 cup margarine, softened (lower the fat by substituting half the margarine with 1/4 cup canola oil and 1/4 cup applesauce)
3/4 cup brown sugar, packed
1/2 cup sugar
1/2 cup (pareve) milk
2 eggs
2 teaspoons vanilla
2 cups flour
1 teaspoon baking powder
1/4 teaspoon salt
1/2 cup powdered sugar
1. Preheat oven to 350 degrees. Lightly coat a 9" x 13" baking pan with shortening or baking spray.
2. In the work bowl of a food processor, combine topping ingredients. Pulse until the consistency is a coarse grain with a smattering of large lumps. Do not overmix. Remove topping and set aside.
3. Cream margarine (or oil and applesauce, if using) and sugars in the work bowl of a food processor or mixer. Add milk, eggs and vanilla and mix until just blended. Add flour, baking powder and salt. Pulse or mix until batter is uniformly moist.
3. Spread cake batter into prepared pan, or fill muffin pan, lined with paper cups, 3/4 full. Sprinkle streusel topping uniformly over the entire cake or muffin top. Bake 30-40 minutes for cake, and 12-15 minutes for muffins. Done when top springs back when lightly pressed. Remove from oven, cool on wire racks, then dust with powdered sugar.
Keeps 2-3 days in a tightly sealed container at room temperature.
Makes: 12 servings~Can make ahead. Can freeze.
Active time: 15 minutes~Cooking time: 40 minutes

Jewish desserts like coffee cake are more than just the finish to a good meal. Serving delicious dessert recipes while sharing sweet insights from our holy sages, creates memories that anchor your family and guests to the eternal sweetness that is our Torah.
~
More kosher desserts on The Kosher Channel~
---
Cooking for The King: The book of Torah insights, recipes and practical tips designed to bring majesty to the mundane.