Easy Pie Crust Recipe
a basic pie crust recipe for sweet and savory tarts and pies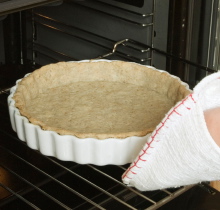 Make this easy pie crust recipe in one dish: the pie plate in which you plan to serve your quiche, tart or pie.
1 1/2 cups flour
1 teaspoon salt
2 teaspoons sugar, or 4 teaspoons for sweet pie crust
1/2 cup vegetable oil
2 tablespoons milk, or pareve substitute such as soy or almond milk
1. In a pie pan or plate mix dry ingredients.
2. Pour in oil and milk and stir with a fork until dry ingredients are completely moistened.
3. Using your fingers, quickly press dough into pan and neatly cut to remove excess dough around rim.
4. Pre-bake or fill according to pie recipe directions.
Makes one 9" basic pie crust
cannot make ahead ~ do not freeze
Preparation time: 8 minutes

I make a delicious easy Salmon Quiche with my Easy Pie Crust Recipe.

Queen in the Kitchen tips make this basic pie crust special:
~For savory pies add a tablespoon of dried herbs.
~Adding a teaspoon of cinnamon makes a sweet pie sparkle.
~It's fine to substitute part or all of the flour to make a whole wheat pie crust.
~Questions or comments? Write me here.
---
Cooking for The King by Renee Chernin
The book of Torah insights, recipes and practical tips
designed to bring majesty to the mundane.