Easy Almond Macaroons
a gluten free pareve dessert that's kosher for Passover, too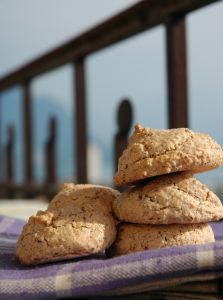 Macaroons are a classic Passover dessert that you can enjoy all year round. These almond macaroons are simple but very rich cookies that a perfectly as a delicious gluten free dessert, too.
Best of all it goes together in less than 5 minutes in the food processor. Now that's something to keep under your crown.
More delicious pareve & gluten-free dessert ideas.
The Almond Macaroons Recipe ~from Cooking for The King
1 (6 ounce) can almond paste
1 cup sugar
2 egg whites
1/4 cup almond slivers
1. Preheat oven to 375 degrees. Generously coat a heavy cookie sheet with shortening or baking spray or line with parchment paper. Place almond paste, sugar and egg whites in the work bowl of a food processor and blend until smooth.
2. Drop batter by teaspoonfuls 2" apart on prepared pan. Press one or two almond slivers on top of each cookie. Bake 10 minutes until golden.
3. Remove from oven and allow to cool 5 minutes before removing to wire racks. Cool completely.
Makes: 24 cookies ~ Can make ahead. Can freeze.
Active time: 20 minutes ~ Cooking time: 10 minutes
a kosher for Passover Recipe

Kosher for Passover on The Kosher Channel means making food we already love the best way possible. Almond Macaroons, like these other recipes, fit that bill exactly. Hope you enjoy!
---
Cooking for The King by Renee Chernin
The book of Torah insights, recipes and practical tips
designed to bring majesty to the mundane.