Apricot Chicken with capers and olives
sweet & savory fall off the bone chicken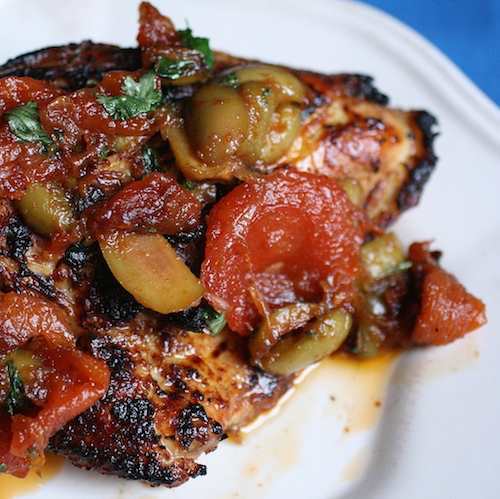 Capers feature prominently in this dish. They are the edible flower bud from a plant that may be very familiar to you; the thorny bushes often bearing feathery purple and white flowers that seem to burst out from between the cracks in the Kosel. Every part of the bush is useful: branches, leaves, seeds, flowers and buds. The caper bush may be Hashem's "note in the wall" telling us that each of us can benefit the world in her own unique way. (from Cooking for the King, Chanukah edition)

---
Fall off the bone Savory Apricot Chicken with capers & olives

8 pieces chicken
5 garlic cloves, crushed
1 tablespoon fresh oregano, torn, plus extra for garnish
3 tablespoons red wine vinegar
3 tablespoons olive oil
1/3 cup pitted green olives
1/3 cup capers
2 tablespoons of caper juice
1/3 cup dried apricots
2 bay leaves
1 teaspoon salt
½ teaspoon pepper
½ cup dry white wine
1 tablespoons silan or honey
Salt and black pepper

1. In a large container or zip lock bag, place the chicken, garlic, oregano, vinegar, oil, olives, capers, caper juice, apricots, bay leaves, salt and pepper. Gently mix together, seal tightly and place in refrigerator for 1 to 2 days.
2. Preheat the oven to 375°F. In a large baking pan, place the contents of the chicken and marinade. Pour the wine, silan or honey over all and place, uncovered, in the preheated oven for 50 to 60 minutes, until the meat is golden brown, firm to the touch and juices run clear. Serve warm or at room temperature.
Makes: 8-12 servings ~ Must make ahead
Active time: 15 minutes ~ Cooking time: 1 hour
Recipe adapted from Silver Palate and Ottolenghi
---
more sweet and savory recipes you will enjoy...
photo credit: Meike Schonhutte@videojug.com

---