Latkes are Jewish potato pancakes fried in oil, one of our yummiest Hanukkah food traditions. Oil is a major symbol of Hanukkah. When we light our chanukia, or Hanukkah candelabrum, with the finest oil, it beautifies the central mitzvah of Chanukah.
Similarly, we increase the enjoyment of the holiday by making special foods. While it's great if you can make and bake for the chaggim, don't ever let that get in the way of your simcha. Especially on Chanukah, a holiday that celebrates the Jewish Woman. Remember, YOU are the Queen in the Kitchen, so if purchased doughnuts and pizza make you happy, it's a gift to everyone.
Wondering how to make latkes low fat?
You might not want to indulge in fried crispy latkes all eight nights of Chanukah, so balance out your menu with an abundance of raw and roasted vegetables, salads and these baked latkes.
BUT... Remember that oil is tied to the meaning of Hanukkah, so allow yourself to enjoy a few traditional fried latkes fried in oil.
Here's my recipe for how to make Potato Pancakes with tips and a video to help any potato latke recipe work for you.
You have eight days of Hanukkah meals, and I have a special gift for each day just for you, my wonderful readers.

Please enjoy this resource of
recipes and menus for eight days of Hanukkah food,
because there's so much more to look forward to than latkes!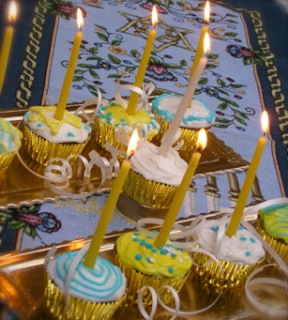 ---