Kosher Thanksgiving Turkey Recipe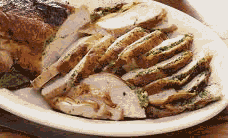 If you're looking for a kosher Thanksgiving turkey recipe and want to save time yet still serve a crowd, a turkey breast will do the trick. This recipe serves over a dozen. It's my tried and true recipe I use for just about every Jewish holiday. Even though it leaves less turkey leftovers than a whole bird, we save the bones and small pieces for a delicious turkey gumbo.

---
6-8 pound turkey breast
1 cup fresh parsley, chopped
1 tablespoon dried basil
1 tablespoon dried dill
1 shallot, quartered
2 tablespoons olive oil, divided
1  tablespoon margarine
2 teaspoons lemon juice
1 teaspoon garlic powder
11/2 teaspoons kosher salt, divided
1 teaspoon pepper
1. Preheat oven to 375 degrees. In the workbowl of a food processor, place parsley, basil, dill, shallot, 1 tablespoon of the oil, margarine, lemon juice, garlic powder, 1 teaspoon of the kosher salt and the pepper. Process until a paste is formed.

2. Using your fingers, gently loosen the skin from the turkey, try not to tear the skin. Scoop about a tablespoon of the herb paste onto your fingers, and smear between the flesh and the skin. Repeat until all the herb mixture is used and a substantial part of the bird is coated.
3. Place turkey in a roasting pan, breast side up. Brush skin with remaining teaspoon of oil and sprinkle with remaining 1/2 teaspoon salt.
4. Roast 20 minutes per pound. Remove from oven, allow to rest 20 minutes before carving. Serve with pan juices.
Makes: 12-16 servings~ Can make ahead
Active time: 20 minutes ~ Cooking time: 2-3 hours

---