Kosher Turkey Gumbo




great kosher turkey leftover recipe idea!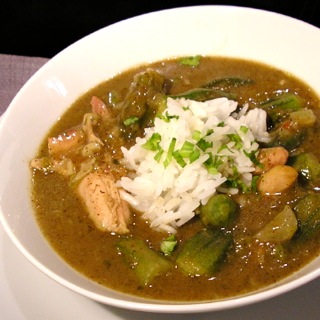 Gumbo~ it's a great kosher turkey leftover idea!
This recipe is adapted from The Kosher Channel's popular Chicken and Okra Gumbo. So next time you make (may I suggest The Kosher Channel's) turkey breast or adventure into the land of a whole turkey, plan to make the most of your efforts and savor this delicious Planned Over— 
                       Kosher Turkey Gumbo~Queen in the kitchen style!
---
1 turkey or turkey breast carcass

2 bay leaves
1 large onion, quartered
½ cup vegetable oil
½ cup flour
1 large onion, diced
½ cup chopped fresh parsley or 3 tablespoons dried parsley
3 ribs celery, chopped
1 green bell pepper, chopped
1 red bell pepper, chopped
½ cup sliced green onions

4 cloves garlic, minced
1 teaspoon salt
1 teaspoon Creole seasoning
4-5 cups steamed white rice
liquid hot pepper sauce, optional
4 cups fresh okra, trimmed or 1 (10 ounce) bag frozen okra
1. Place turkey bones with any meat attached in a large stockpot and cover with 6 cups cold water. Add 2 bay leaves, and the quartered onion. Bring to a boil, lower heat and simmer, uncovered, for one hour. Remove from heat and discard carcass, onion and bay leaves.

2. In large heavy pot, heat oil over medium high heat. Add flour and make a roux. (to make a roux: cook oil and flour together about 10-15 minutes, stirring constantly and slowly with a whisk until it turns very dark brown, almost between brown and black.)
3. Add diced onions, parsley, celery, bell peppers, green onions and garlic to the roux. Cook about 10 minutes, stirring often with a large spoon until vegetables are tender.
4. Add turkey broth, salt, and Creole seasoning to the vegetables, stir well to blend and add okra. Simmer uncovered 15 minutes. Add turkey and lower heat to low, cover and simmer 15 minutes. Taste, add more salt and seasoning if desired. 5. To serve you may ladle gumbo over rice or serve as pictured with the rice in the gumbo. Serve with hot pepper sauce, if desired.
Makes: 8-10 servings ~ Can make ahead/Can freeze
Active time: 1 hour ~ Cooking time: 1 hour
---
Similar satisfying kosher recipes for you...