Rich Peach Chutney




take your kosher turkey leftovers to a whole new level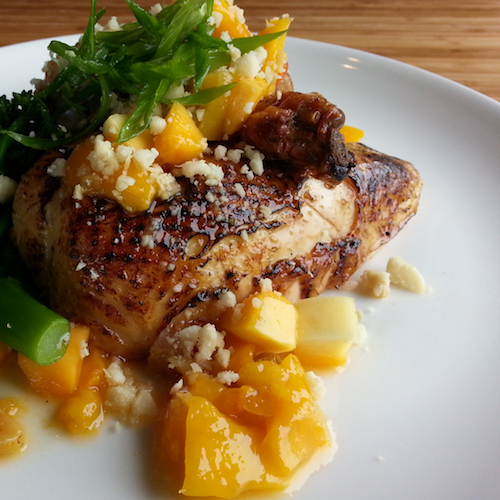 Not just for your kosher turkey ̶l̶e̶f̶t̶o̶v̶e̶r̶s̶, oops, I mean Planned Overs—that's the Queen in the kitchen way.
Peach Chutney brings out the best in many simple poultry recipes. We especially like to serve it for Shabbat with roasted turkey or grilled chicken or cutlets.

Peach Chutney Sauce for Turkey or Chicken
1/4 cup cider vinegar
1/4 cup balsamic vinegar
1/2 cup loosely packed brown sugar
1 large sweet red pepper, diced
2 shallots, diced
1 small jalapeño pepper, diced
1/3 cup raisins
1/2 teaspoon salt
1 1/2 pounds firm, fresh peaches, peeled and chopped or 1 ( 32 oz.) bag frozen peaches, chopped
1. In a medium pot, bring vinegars and sugar to a boil. Lower heat, add the red pepper, shallots, jalapeño, raisins and salt. Simmer uncovered 10 minutes. Add the peach segments and simmer another 5-15 minutes until peaches are very soft and mixture is syrupy.  Serve at room temperature.
---
More chicken recipes you'll like for Shabbat and yom tov