Moroccan Chicken Recipe




with Toasted Spices, Lemon and Olives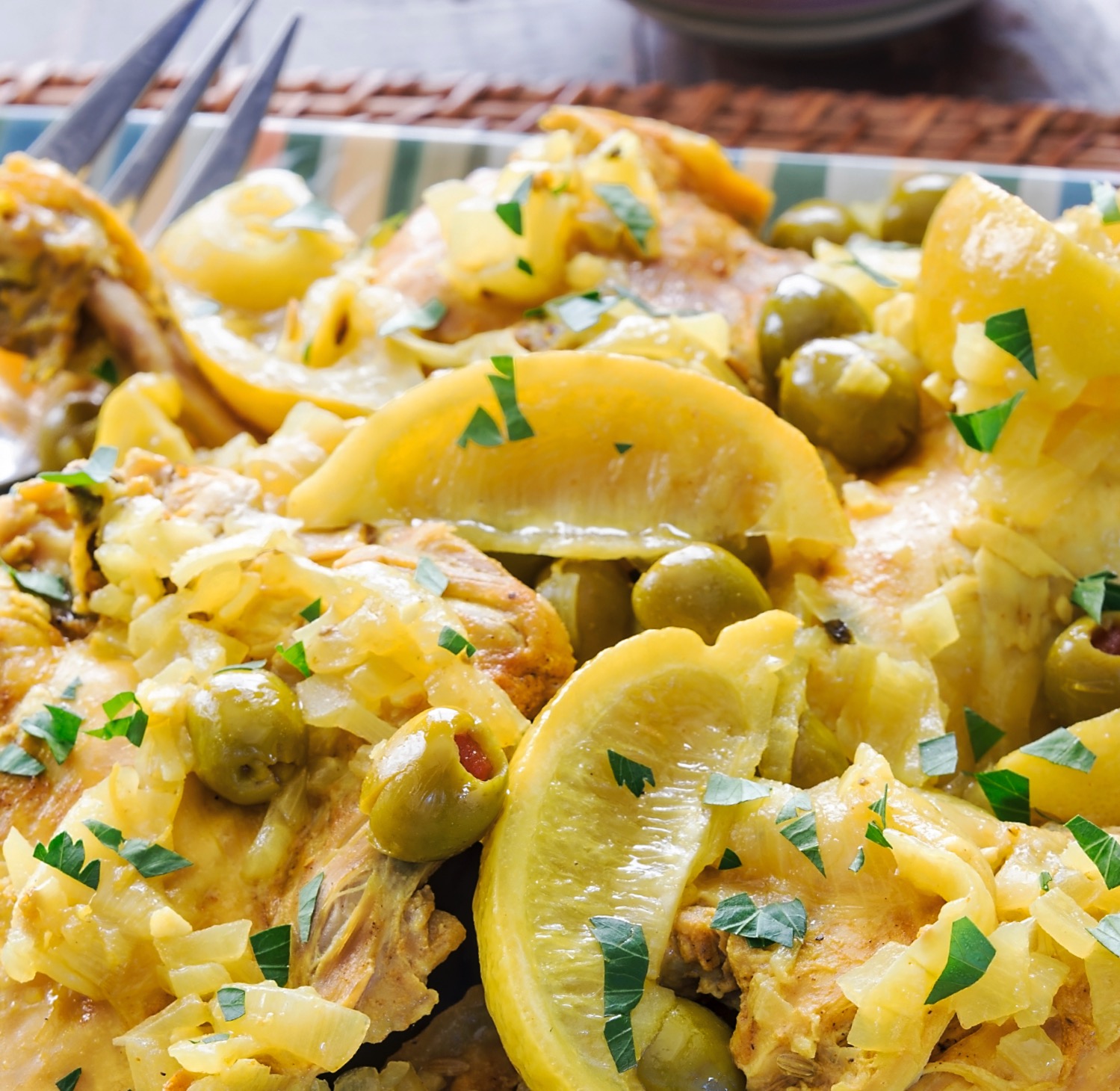 This outstanding Moroccan Chicken Recipe is an Israeli family favorite for Shabbat.  Made luscious with two of Israel's abundant products, olives and lemon.   
It has all the jewels of a Queen in the Kitchen  D-I-S-H: Delicious, Ingredients you can easily find, Simple (one pot-two steps) and Has adaptability: add tomatoes, substitute lime juice or rice vinegar for lemon juice, some of broth with dry wine, cilantro for the parsley. Mix the spices to your taste.  Try with boneless chicken.....You are the queen in the kitchen!
Moroccan Chicken with lemon & olives
8 pieces chicken, rinsed and patted dry
1/4 cup olive oil
4 cloves garlic, chopped
1 tablespoon turmeric
2 teaspoons cumin
1 teaspoon ginger
1 teaspoon paprika
1 cup green olives, pitted
2 cups chicken broth
1 lemon, cut into thin wedges
1 teaspoon salt
1/2 teaspoon black pepper
1 tablespoon lemon juice
1/4 cup parsley
1. In a large pot, over medium heat, pour in the olive oil and the garlic, turmeric, cumin, ginger and paprika. Stir occasionally as the oil warms. After 2 to 3 minutes, when the spice mix is just aromatic, add onions and saute until just translucent, about 5 minutes. 
2. Arrange chicken in the pot. Add olives, broth, lemon wedges, salt and pepper. Cover and simmer 30 minutes. Add lemon juice and parsley, if using. Simmer 5 to 10 minutes until the sauce thickens. Serve with couscous or rice, suggestions below
Serves 6-8   Can make ahead -gets better the next day
Active time 15 minutes    Total time- one hour
---