Caramelized Onion & Mushroom Tart

A Sneak Peek at the 2nd edition of "Cooking for the King"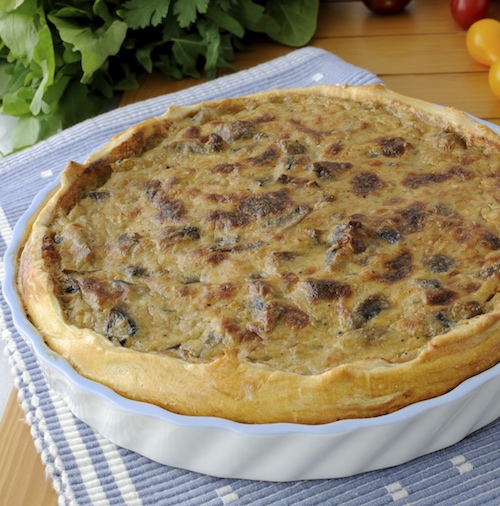 The perfect mix of sweet and savory, caramelized onions complement mushroom's depth & together they spell "umami", the fifth flavor that just makes a recipe work. No wonder they pair so well together.  This recipe developed from my Caramelized Onion and Salmon Quiche I included in the first edition of Cooking for the King. If you enjoy it, I hope you'll look into that book-it's full of simple elegant recipes, cooking tips and health benefits of the foods that  you probably use every week.
---
Caramelized Onion & Mushroom Tart-from Cooking for the King
2 teaspoons vegetable oil
2 large onions, chopped
1 tablespoon sugar
2 garlic cloves, minced
2 pounds button or porcini mushrooms, sliced
2 tablespoons Marsala wine
¾ cup (pareve) sour cream
¼ cup fresh parsley, chopped or 1 tablespoon dried parsley
½ teaspoon garlic powder
½ teaspoon salt
¼ teaspoon black pepper
dash cayenne pepper optional
6 eggs, beaten
2 frozen pie shells

1. In a large frying pan over high, heat oil. Stir in the onions and sugar and cover pan. After 5 minutes, remove the cover, add 1 tablespoon water and stir. Onions should begin to caramelize. Cover, reduce heat to medium and cook 15-20 minutes stirring occasionally until onions are a rich, golden brown.
2. Add the garlic and mushrooms to the onions. Cook uncovered, stirring occasionally, until the moisture released from mushrooms evaporates, about 20 minutes. Remove from heat and stir in the Marsala wine, sour cream, parsley, garlic powder, salt, black pepper and cayenne if using. Set aside for about 15 minutes.
 3. Heat oven to 350°. When mushrooms are no longer hot, stir in the eggs and spread the mixture into the pie shells. Bake for 30-40 minutes until golden brown.
PREPARE AHEAD: Keeps covered in the refrigerator for up to 3 days. Can freeze up to 1 month.
pareve or dairy   makes two tarts   
active time: 15 minutes  total time: 1½ hours
---
you also might like....
---