Persian Inspired Purim Recipe for


Onion Soup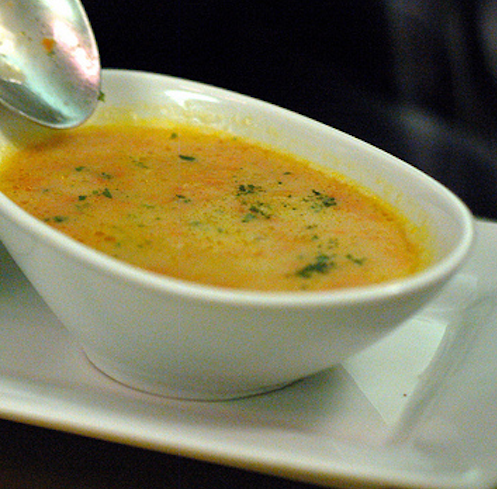 This simply elegant Purim recipe for Onion Soup is perfect for your Persian inspired seuda. No running around for exotic spices I've offered QIK (Queen in the kitchen) super easy substitutions for the couple of ingredients you might not have on hand.  Adapted from Gordon Ramsays Healthy Appetite. 
You'll want to try the entire frelich and fabulous (great for Sheva Brachos, too) Persian menu starts with this delicious Purim recipe for Onion Soup.
Onion Soup Persian Style-
3 tablespoons olive oil
10 large onions, thinly sliced
1/4 teaspoon salt
1/4 teaspoon pepper
1 teaspoon ground turmeric
1 teaspoon fenugreek seeds or mustard seeds

1 teaspoon dried mint

1/4 cup flour
6 cups vegetable stock
1 cinnamon stick or 1/4 teaspoon ground cinnamon 
juice of one lemon, 2-3 tablespoons
1 teaspoon sugar
fresh herbs, optional
1. In a soup pot over high heat, add olive oil, onions, salt and pepper and stir to coat. Lower heat to medium low, cover and steam 15 minutes until onions are soft. Stir occasionally and adjust heat so that onions do not brown.

2. Add turmeric, seeds, mint and flour. Cook, stirring frequently, for 3-5 minutes.
3. Gradually add stock to onions, whisking constantly to prevent lumps. Add cinnamon stick if using and simmer, partially covered for 30 minutes. Remove cinnamon stick.
4. When ready to serve, stir in ground cinnamon if using, lemon juice and sugar. Adjust seasoning to taste. Garnish with fresh herbs if desired.
Serves 8-10 ~ Can make ahead
Active time: 20 mins ~ Total Time: 1 hour


photo credit ©CC ario_2010
---