TNT Enchilada Recipe with mole' sauce
⭐️ 
vegetarian

⭐️

kosher 

⭐️

and cheesy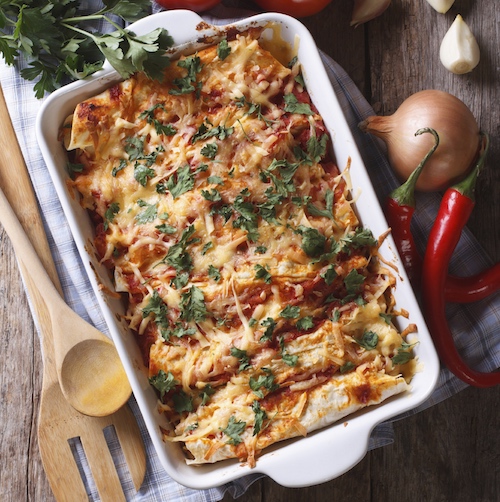 I've been on the search for a TNT Enchilada Recipe that is kosher, vegetarian and cheesy. Tall order—and it's here for you now!

This recipe introduced me to an unusual combination of flavors and was fun to prepare. It freezes well, so make a double batch for a ready weeknight meal;  its perfect for Chanukah, Shavuot and the 9 Days when you want a crowd pleasing veggie main course.
Round out the meal with a side salad and this Spanish-style rice.
Hi-enjoying these recipes? Then please let others know!
---
Vegetable Enchiladas Recipe with Mole' Sauce
10 corn tortilla shells

2 cups Monterey Jack or cheddar cheese, shredded
5 cups mixed vegetables of your choice, cut into ½ " pieces: onions, mushrooms, carrots, zucchini, yellow squash, red, yellow or orange peppers

1 cup total from this list: cooked or canned drained black beans, fresh or frozen corn kernels,
sliced black or green olives
1/2 cup fresh cilantro, chopped
 (optional)
Mole Sauce, see next recipe
Sour Cream
1.   Heat olive oil in large skillet over medium high until shimmering. Add vegetables all at once and cook for 15-20 minutes until softened.  Cool and mix in the fresh cilantro if using. 
Remove to a bowl and clean the skillet.
2. Lightly oil skillet and place over medium high heat. Place one tortilla in the pan for 2-3 minutes until softened, it may start to brown and get puffy which is fine. Turn and toast on the other side. 
Repeat until all are toasted.
3  Spread 1/3 cup of the mole sauce onto the bottom of a 3x12 inch baking dish. Reserve ½ cup of cheese and ½ cup of sauce and set aside.
4. Dip one tortilla into the cooled mole sauce to coat both sides.  Shake off excess sauce. Place tortilla onto a plate, add a strip of vegetable mix in center and top with cheese. Roll the tortilla and place flap side down into the baking dish. Repeat with remaining tortillas.  

5. Preheat the oven to 375°. Spread reserved mole sauce over the top of enchiladas in the baking dish and sprinkle with reserved cheese. Cover pan with foil and bake 20 minutes. Remove foil and bake 1-15 minutes until bubbly.
6. Remove from oven and allow to stand for 10-15 minutes before serving topped with a generous dollop of sour cream.
Makes: 6-8 servings ~ Can make ahead ~ Can freeze
Active time: 30 minutes ~ Total time: 1 hour

---
Ole' Mole' Sauce Recipe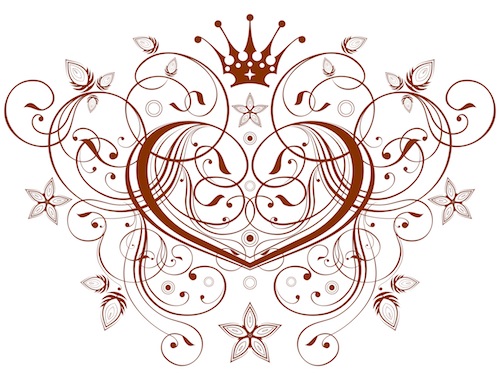 What is mole'  sauce???? Pronounced, "MO- lay"  it refers to a variety of sauces used in Mexican cooking  with a  taste that ranges from bittersweet to spicy.  Most mole sauces are brown and combine unique flavors such as hot peppers and chocolate. 
QITK TIP: Be sure to use a good quality chili powder (try this homemade version) for the best results. 

 1/4 cup olive oil

2 onions, finely chopped 


4 cloves garlic, finely chopped
1 teaspoon dried oregano

1 teaspoon ground cumin

1/2 teaspoon ground cinnamon

1/4 cup flour 
2 tablespoons good quality chili powder*

4 cups vegetable broth

1/4 cup semi-sweet chocolate chips
1 teaspoon salt
½ teaspoon pepper
1. Place sauce pan over medium heat and add oil. When hot, add onion, garlic, oregano, cumin and cinnamon.
Cover and cook on medium heat until onions are tender, stirring frequently. Mix in chili powder and flour and stir for 3 minutes.

2. Gradually whisk in broth until smooth. Increase heat to medium-high.
Boil, stirring occasionally, for 30 minutes or until reduced by 1/3 to about 3 cups.
3. Remove from heat and whisk in chocolate until smooth.
Season with salt and pepper to taste and set aside to cool.
MAKE AHEAD ENCHILADAS & MOLE: 
Mole sauce will keep covered tightly in the refrigerator for up to one week. 
 Prepare enchiladas through step 4 up to 24 hours ahead. Cover pan with foil and refrigerate until ready to bake. Extend covered baking time to 30 minutes.    
Can freeze fully cooked enchiladas for up to one month. Thaw before re-heating, covered, in 350° oven. Remove foil add, add a sprinkle of cheese and bake until melted
---
---