Marvelously Moist Banana Bread Recipe




plus a variety of variations!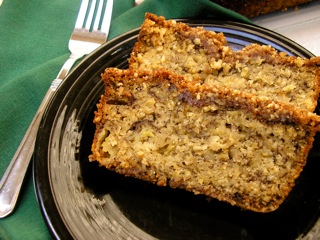 This marvelously moist banana bread recipe is the best I've ever tried. It's easy, fairly healthy and open to your creative variations. Sometimes I substitute half whole wheat flour and sometimes I add a cup of chocolate chips to the batter, depending on my mood.
Planned Over sweet potatoes, butternut or acorn squash with MARVELOUS results. Now you know how this adaptable-delicious-moist-and -sometimes-sorta-healthy banana bread recipe got its name~
---
The Best Banana Bread Recipe
3/4 cup finely chopped pecans or walnuts
2 cups sugar
2 1/2 cups flour
1 cup oatmeal
2 teaspoons baking powder
1 teaspoon salt
1/2 cup vegetable oil
1/2 cup milk
2 cups very soft bananas, mashed 
4 eggs

Crumb Topping:
1/2 cup pecans or walnuts
1/2 cup brown sugar
1/4 cup flour
3 tablespoons margarine
1/2 teaspoon cinnamon
1. Grease and flour two loaf pans or line the cups of a muffin tin with paper cups. Sprinkle finely ground nuts in the bottom of the pans and/or cups.

2. Prepare Crumb Topping by placing all ingredients in the work bowl of a food processor. Pulse until nuts are roughly chopped and mixture is crumbly. 
3. In a medium bowl, stir together the sugar, flour, oatmeal, baking soda, salt. Add oil, bananas and milk. Stir until the dry ingredients are completely moistened. Add eggs one at a time, mixing well after each addition. 
4. Pour batter into prepared pans, sprinkle with topping. Bake in preheated oven one hour for loaves and 25 minutes for muffins or until they no longer jiggle when shaken. Remove and cool before turning loaves out on a rack.