Caramelized Carrots




roasted carrots taste almost like candy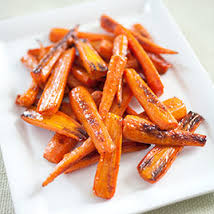 data-custom-mark="true"This method to cook roasted carrots brings out their natural sweetness so they taste as close to candy as a vegetable possibly can. Their bright color also makes them a good side dish for a holiday meal. The fact that carrots are both healthy and economical is another great reason to serve these again and again.
THE QUEEN IN THE KITCHEN WAY TO ROAST CARROTS
1 (3 pound) bag carrots, peeled, halved lengthwise and cut into 4" "fingers"

2 tablespoons olive oil
1 teaspoon kosher salt
1. Preheat oven to 400 degrees. Place the carrots in an large baking pan and toss with salt and olive oil. Spread into one layer.
2. Roast 30 minutes, use a metal spatula to move the carrots around. Continue roasting 30-40 minutes until the carrots are soft and some begin to blacken. Serve it warm or room temperature.
serves 6-8 people ~ can make ahead
active time 5 minutes ~ cooking time 45 minutes
a kosher for Passover Recipe
---
Cooking for The King by Renee Chernin
The book of Torah insights, recipes and practical tips
designed to bring majesty to the mundane.