Top 3 Strata Recipes 
Queen In The Kitchen "Stratagies" for Easy Cheesy Overnight Egg Casseroles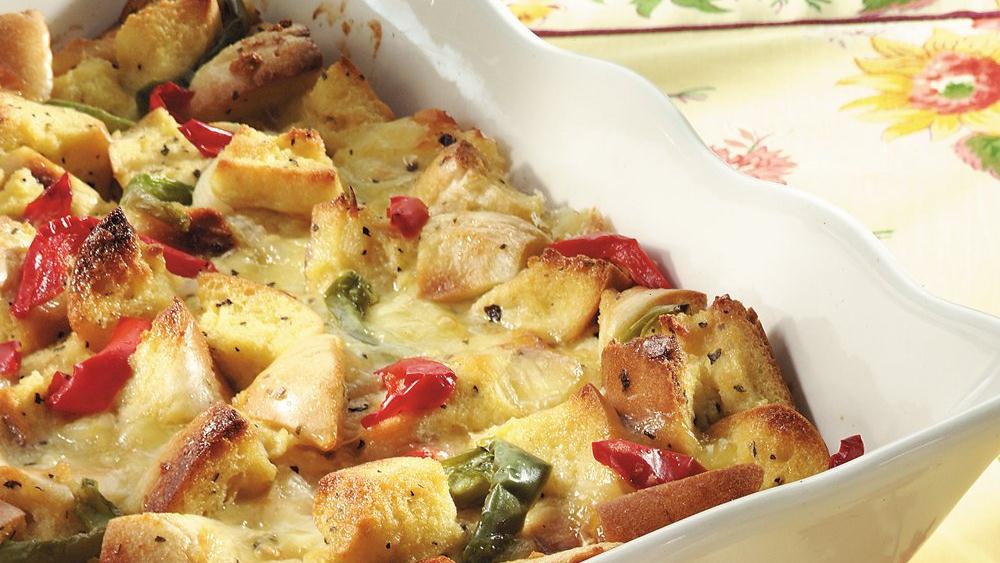 Meet my top 3 strata recipes for your dairy brunch or breakfast overnight cheese and egg casseroles:  Spinach & Mushroom, Mexican, Mediterranean & tips on how to make more easy strata recipes.
What is a strata anyway?? A Strata (or stratta) is a layered casserole, similar to a quiche or frittata, made from a mixture which mainly consists of bread, eggs and cheese and any add-ins that you like.
This breakfast or brunch casserole is hearty with cheese and bread, made custardy with eggs and milk. A strata is one of my favorite things to make for a morning meal such as a Bar Mitzvah Brunch, morning guests in the sukkah, a cozy Chanukah breakfast, and it is a perfect recipe for Shavuos.

---
Two of the best things about recipes for stratas:

#1-Make ahead is a must. The thing about this dish is that it you assemble it the night before and pop it in the oven about an hour and half before the meal. The overnight rest in the fridge gives it that custardy texture and the flavors melt together into something dreamy & creamy.

#2-You don't even need a recipe! Just follow this this simple ratio: 2 parts bread +1 part cheese + 1 part add-ins + 1 part eggs +1 part milk. Stick with me and I'll show you how.
---
How to Make Strata Breakfast Casseroles in 5 simple steps:
1. Begin with Bread
First, butter up a baking dish.
Cut up some bread: challah, pitas, sandwich bread, crusty loaf, even cornbread or gluten-free bread. 
Loosely pack the bread into a baking dish 1/2 to 3/4 full. Now, pack that bread into a measuring cup and make note of how much there is. (as a reference: my 9" x 9" x 3" pan uses 4-5 cups of challah and serves 6 or more depending on what else is for breakfast)
This step is optional:  Toast bread on a baking sheet until they're barely starting to crisp on the outside at 250°F  for 5 to 10 minutes depending on the size. 
Put the bread back into the baking dish.

2. Cheese Please
Scatter Cheese over the bread:  Use an amount equal to half the volume of bread. Any meltable cheese or mix of cheeses will work: Cheddar, Monterey Jack, mozzarella, colby, fontina, Gouda, Gruyère, Havarti, or Muenster. Blue cheeses and soft cheeses such as goat cheese, Brie and Camembert also melt well (remove the rind) but use them in a mixture with a cheese that is milder, as they are very strong. Parmesan is not recommended but it can be added it for flavor as long you also have a good melting cheese for the custard. Save some to add to the top of the strata before baking to give it a nice crust.
3. Put in Some Personality
Add ins give the strata its personality.  Again, follow the ratio; these veggie combinations should equal the amount of cheese (half the amount of bread). Scatter them all over the bread and cheese so every bite will get some of the deliciousness. Here are my top 3 strata recipes with the add in that make them outstanding in my opinion and the many happy mornings we've enjoyed them. You can make up your own combos, Queen in the Kitchen style—that's how all these came bout. 
4. Hold it Together
Whatever the volume of bread, break enough eggs into a measuring cup to equal HALF of that volume. Pour eggs into a mixing bowl and add milk equal to the egg volume. Season egg and milk mixture with salt and pepper and whatever else you like: a dab of dijon mustard, hint of hot sauce, a few shakes of of paprika, zaatar, cumin, or a scrape of nutmeg. If you have some fresh herbs, chop those up and sprinkle them in.  
Pour the milk and egg mixture all over the bread, cheese, and add-ins in the baking dish. Press the bread down with a spatula to make sure it's covered in liquid. Top it with the reserved cheese, cover it tightly with foil and give the unbaked strata a good night's sleep in the fridge. 
5. Overnight Sensation
Bring the strata out at least 2 hours before serving time to reach room temperature. Preheat over to 350°F. Uncover and bake until the cheese is melted on top and the egg custard is set, 20 to 40 minutes until set, depending on the depth and size of pan. Strata is ready when top is golden and the center doesn't jiggle when shaken. Allow to cool 5-10 minutes before serving. 
---
Brunch Quiches, Frittatas Crepes and my top three egg recipes...