Boneless chicken Breast with Mushroom Sauce & Lemon
Chicken Francaise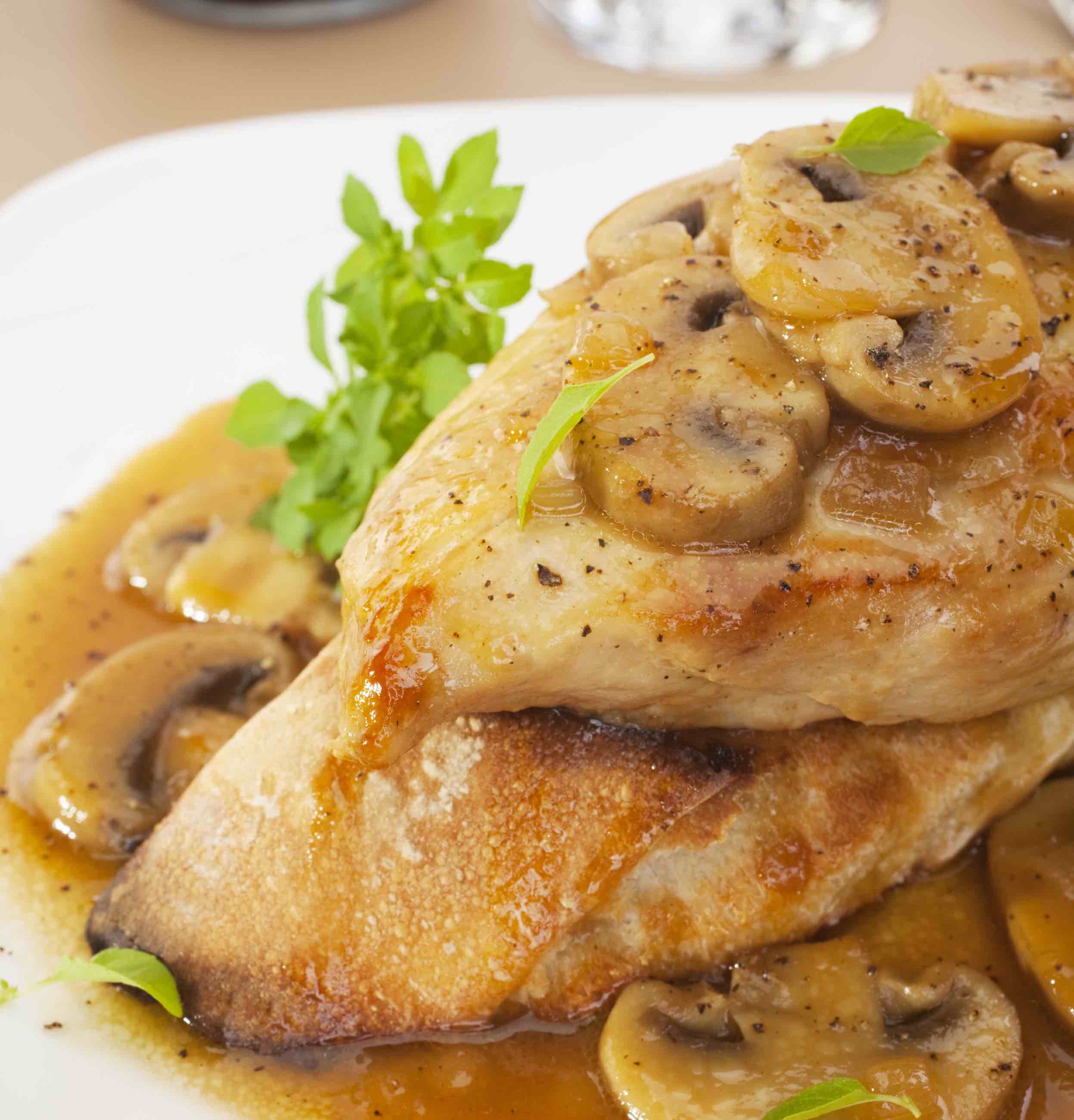 Chicken Francaise:  a moist make ahead chicken for Friday night—or simply make a weeknight special.
This boneless breast of chicken recipe makes its own luscious mushroom sauce, the lemon give it a light fresh flavor. 
---
Chicken Francaise
6 boneless chicken breast halves,
1/2 cup flour
1 teaspoon salt
1/2 teaspoon pepper
2-7 tablespoons vegetable oil
3 eggs, beaten
1 (8 oz.) package sliced mushrooms
1 cup dry white wine or chicken broth
3 tablespoons lemon juice, from 2 small lemons
1/4 cup parsley, chopped
1. Combine flour, salt and pepper in a pie plate. Beat eggs in a separate bowl. Cover each chicken breast with a sheet of plastic wrap. Using meat pounder or rolling pin, pound to even the thickness.
2. Coat the bottom of a large skillet over medium high heat with oil. When oil is hot, dredge chicken in flour, shake of excess then dip in eggs. Brown chicken in the pan until golden and cooked through, about 2 minutes per side. Remove to a 9" x 13" baking pan. Repeat with remaining chicken. (Dredge and dip immediately prior to browning, otherwise coating will become gummy.)
3. Preheat oven to 350 degrees. To the drippings in the pan, add mushrooms and simmer until juices release. Stir in wine or broth and lemon juice. Boil, uncovered and stirring often until sauce is reduced to 1/2 cup, about 5 minutes. Remove from heat, stir in parsley. Season to taste with salt and pepper. (Can prepare 2 days ahead through step 3. Refrigerate sauce and chicken separately in well sealed containers. When ready to serve continue below:)
4. Pour sauce over chicken. Cover and bake in preheated oven for 15 minutes. Serve warm, garnished with lemon slices.
Makes: 6 to 8 servings            Can make ahead
Active time: 30 minutes            Cooking time: 15 minutes
Accompaniment:  Egg Noodles tossed with olive oil and toasted pine nuts

photo credit istockphoto@travelinglight
---
---