Crispy Low Fat Latkes
The Challenge: Can Low Fat Latkes really measure up?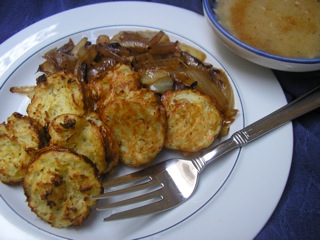 Traditionally celebrated with high fat Hanukkah food like jelly doughnuts or sufganiot, crispy latkes and rich cheese dishes, the holiday of lights is certainly not light on fat and calories. Our favorite, laktes fried in oil, commemorate the pure vial of oil that miraculously burned in the Beis HaMikdash for eight days. But they weigh in between 60-100 calories each with a about 10 grams of fat in every one. And by the way, who can eat just one???
The only answer is to indulge in a low fat latke that transmits deliciously a taste of Chanukah we look forward to at this time of year.
The Low Fat Latke Recipe ~fromCooking for The King
2 lbs potatoes, shredded
1 onion, shredded
2 eggs or 1 egg and 2 egg whites
1 teaspoon salt,
1/4 teaspoon pepper
1/4 cup matzo meal or flour
1/4 teaspoon baking powder
1 tablespoon fresh dill or 1 teaspoon dried dill, optional
1. Preheat oven to 425 degrees.
2. Drain potato to remove most liquid but do not squeeze. Place shredded potato and onion in the work bowl of a food processor. Add remaining ingredients.
3. Pulse just until ingredients are mixed well and the potatoes are grated, not pureed.
4. Spray muffin tins with cooking spray. Then, using a pastry brush, brush each cup with vegetable oil. This helps to make crispy latkes. Fill each cup 1/3 full for large muffin tin and 3/4 full for small cups.
5. Bake on a middle rack 30-45 minutes (depending on the muffin tin size) until puffed and golden brown. Remove latkes from oven and serve immediately with applesauce.
You may hold low fat latkes until serving time or freeze them for later use. If I do this, I under cook them just a bit till golden, but not browned. Then I return them in the baking pan to a preheated 425 degree oven and bake 10 minutes until crisp.
Serves 6-8 ~ Can make ahead ~ can freeze
active time:20 minutes
cooking time: 40-55 minutes
---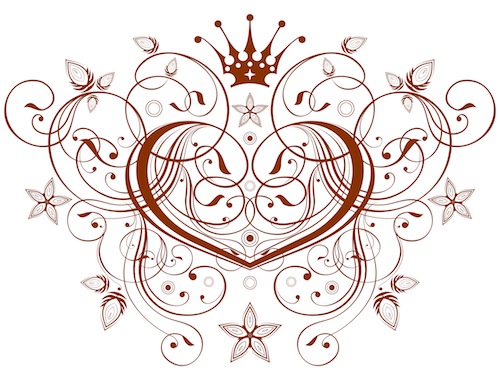 QITK tip: I've combined several baked latke recipes and experimented with a few techniques to make the low fat latke recipe here. Queen in the Kitchen tips for great latkes:
#1 Consistency: Shred, then lightly chop, the potato and onion. A food processor works best.

#2 Browning: Brushing a bit of oil in the muffin tin cups helps them brown nicely.

#3 Portion control: I like the mini muffin size, they cook faster and their smaller size is an important part of any low fat diet.

#4 Cooking: Be sure the oven is preheated to 425 degrees before baking.
---
Traditionally served with applesauce or sour cream, Low Fat Latkes lighten any Hanukkah meal menu. They especially compliment Beef Bourguigion, Brisket or Barbecue Salmon.

More delicious Hanukkah recipes~
---
Cooking for The King by Renee Chernin
The book of Torah insights,
recipes and practical tips
designed to bring majesty to the mundane.