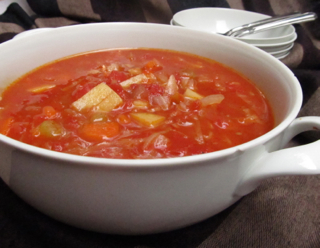 Believe it or not, a traditional repertoire of Jewish soups includes more than chicken soup. I call this Cabbage Soup the "king" of soups because, chock full of flavorful vegetables and hearty broth, it is really my family's favorite soup.
The secret to the deep flavor this tried and true Cabbage Soup recipe is to brown the bones first. This step is what gives the broth its unparalleled richness.
More Jewish Soup Recipes you'll want to try.
If you add some leftover brisket, corned beef or bits of roast you'll have a hearty, filling meal. Now that's something to keep under your crown.
The King of Jewish Soups: The Cabbage Soup Recipe
~from Cooking for The King
2 beef bones
10 cups water
2 carrots, chopped
2 stalks celery, chopped
1 medium onion, chopped
1 large potato, large dice
1 (28 ounce) can diced tomatoes
juice of one lemon, about 3 tablespoons
1 bay leaf
1 tablespoon sugar
1 teaspoon salt
1/2 teaspoon pepper
1 head or 2 (?8 ounce) bags thinly shredded cabbage, about 4 cups
1. Preheat oven to 400 degrees. Place bones on a foil lined baking pan and roast for one hour. Remove from oven, drain off grease.
2. Place roasted bones in a medium soup pot. Add all ingredients except cabbage. Bring to a boil, reduce heat and simmer, uncovered, for 2 hours.
3. Add cabbage and simmer 10 minutes. Season to taste with additional salt and pepper.

Lighten up! tip: Cool cabbage soup to room temperature after step 2, then refrigerate for several hours or overnight (the flavors will develop by this step as well). The fat will congeal on top and be very easy to remove and discard. Continue with step 3.